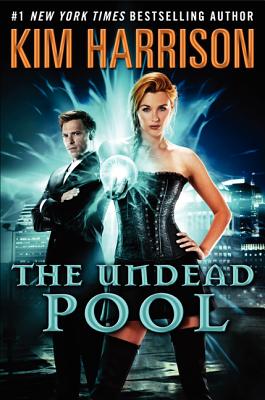 The Undead Pool (Hollows #12) (Hardcover)
Harper Voyager, 9780061957932, 432pp.
Publication Date: February 25, 2014
* Individual store prices may vary.
Description
Supernatural superhero Rachel Morgan must counter a strange magic that could spell civil war for the Hollows in this sexy and bewitching urban fantasy adventure in acclaimed New York Times bestselling author Kim Harrison's Hollows series.
Witch and day-walking demon Rachel Morgan has managed to save the demonic ever after from shrinking, but at a high cost. Now, strange magic is attacking Cincinnati and the Hollows, causing spells to backfire or go horribly wrong, and the truce between the races, between Inderlander and human, is shattering. Rachel must stop this dark necromancy before the undead vampire masters who keep the rest of the undead under control are lost and all-out supernatural war breaks out.
Rachel knows of only weapon to ensure the peace: ancient elven wild magic, which carries its own perils. And no one know better than Rachel that no good deed goes unpunished . . . 
About the Author
New York Times bestselling author Kim Harrison was born and raised in the upper Midwest. Her bestselling Hollows novels include Dead Witch Walking; The Good, the Bad, and the Undead; Every Which Way But Dead; A Fistful of Charms; For a Few Demons More; The Outlaw Demon Wails; White Witch, Black Curse; Black Magic Sanction; Pale Demon, A Perfect Blood, Ever After, and The Undead Pool, plus the short story collection Into the Woods, The Hollows Insider and graphic novels Blood Work and Blood Crime. She also writes the Madison Avery series for young adults.
Praise For The Undead Pool (Hollows #12)…
"A great ride in and of itself, rather than simply a buildup to the finale, which is sure to be whiz-bang."
— Kirkus Reviews (starred review)

"Harrison delivers some amazing major payoffs and throws new wrenches into the life of day-walking demon Rachel Morgan....Huge kudos, as Harrison really nails this one!"
— RT Book Reviews (top pick)

"Readers who have followed this series will be overjoyed to have Trent and Rachel finally deal with their complicated history and chemistry."
— Library Journal

"There's a general sensation of closure and imminent climax as Harrison maneuvers toward the end, and patient readers are promised a substantial payoff."
— Publishers Weekly

"The world-building is complex and solid....and the cast of characters is immensely engaging. The Undead Pool doesn't disappoint."
— Tor.com

"Fast-paced and entertaining."
— Publishers Weekly

"Longtime fans will find their emotions running the gamut, as events for many of Harrison's familiar characters take new and sometimes tragic turns this time around. Rachel's journey of self-discovery is hard, frightening and definitely life-threatening; it also makes for fantastic entertainment!"
— Romantic Times BOOKclub

"Tense and thrilling."
— Miami Herald

"The world-building is incomparable"
— Fresh Fiction