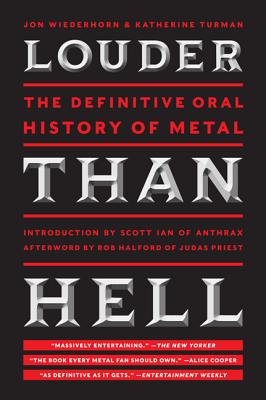 Louder Than Hell
The Definitive Oral History of Metal
Paperback

* Individual store prices may vary.
Other Editions of This Title:
Hardcover (5/14/2013)
Description
The definitive oral history of heavy metal, Louder Than Hell by renowned music journalists Jon Wiederhorn and Katherine Turman includes hundreds of interviews with the giants of the movement, conducted over the past 25 years.
Unlike many forms of popular music, metalheads tend to embrace their favorite bands and follow them over decades. Metal is not only a pastime for the true aficionados; it's a lifestyle and obsession that permeates every aspect of their being. Louder Than Hell is an examination of that cultural phenomenon and the much-maligned genre of music that has stood the test of time.
Louder than Hell features more than 250 interviews with some of the biggest bands in metal, including Black Sabbath, Metallica, Megadeth, Anthrax, Slayer, Iron Maiden, Judas Priest, Spinal Tap, Pantera, White Zombie, Slipknot, and Twisted Sister; insights from industry insiders, family members, friends, scenesters, groupies, and journalists; and 48 pages of full-color photographs.
Praise For Louder Than Hell: The Definitive Oral History of Metal…
"Whether you're the sort of man who knows everything from who first threw the Devil Horns to the correct pronunciation of Yngwie Malmsteen, there is something fascinating to learn from Louder Than Hell . . . Shed[s] new light on the making of Satan's Music."
— Esquire

"Presents the collective memory of heavy metal through the ages and eras in the voices of the men who lived it . . . It's an aficionado's delight."
— New York Daily News

"Louder than Hell is a love letter to the misunderstood genre of heavy metal music, written by trusted companions who had a front row seat on the devil's rollercoaster. The definitive chronological testimony by the people who were there, including some who are no longer with us."
— Mark McGrath, Sugar Ray and co-host Extra

"A great read and an instant classic."
— The Onion's A.V. Club

"This is the best oral history I've read since Please Kill Me. Louder than Hell is the first book that really delivers the brutal truth from the mouths of the artists and key players themselves! I couldn't put it down."
— Matt Pinfield

"Two devil horns up!"
— USA Today

A compelling, first-person account of a seemingly unstoppable force . . .the book reads like an extended, uncensored, shockingly satisfying episode of VH1's Behind the Music.
— Washington Post

"An amazingly comprehensive book on all eras and genres of hard rock and heavy metal. The stories and attention to detail make it an instant must for anyone who ever was or is a fan."
— Eddie Trunk, DJ and host of That Metal Show on VH1 Classic

Often hilarious, occasionally, 'God, I wish I hadn't read that!', sometimes profound, sometimes heartbreaking, sometimes infuriating . . . no one holds back on any subject. . . you come away from this book with a crystal-clear vision of this world
— The Huffington Post

"The authors inclusiveness give this examination a weight that is just as heavy as the music."
— Publishers Weekly

"A who's who of heavy music . . . What makes Louder Than Hell un-put-down-able are the stories . . . Essential."
— Revolver (4 stars)

"No one's gone quite as deep into the genre's recesses as this 746-page oral history, which covers everything from the birth of Black Sabbath to Dave Mustaine's departure from Metallica to the disaster that was Woodstock '99."
— Rolling Stone, four stars

"Jon Wiederhorn and Katherine Turman know metal. Louder Than Hell is an amazing gathering of different breeds of heavy metal rockers telling the tales metal fans want to hear."
— Tom Morello, Rage Against the Machine

"If you love metal, great stories, and music history told by the people who made it, then Louder than Hell is a must-read. This is the book every metal fan should own.
— Alice Cooper

"Louder Than Hell comes straight from the twisted minds of rock icons and flows seamlessly through various eras of heavy metal. . .I really dig this book."
— Riki Rachtman

"I've said thousands of times that reading 'totally sucks.' But this book does indeed not suck. Books on the history of even something as cool as metal can be a bit antiseptic and boring-not this one."
— Brendon Small, Dethklok

"Who likes rock n roll here?? Well if you do, this is the book for you! . . . This is the definitive chronicle of all that is heavy metal and I've read them all!"
— Chris Jericho, Fozzy

"As definitive as it gets, bonding historical anecdotes to pieces of debauched mythology from the scene's platinum superstars and fringe icons . . . as indispensable as a skull-adorned leather jacket."
— Entertainment Weekly, A-
It Books, 9780061958298, 768pp.
Publication Date: April 29, 2014
About the Author
Jon Wiederhorn is a veteran rock journalist who wrote the authorized biography Ministry: The Lost Gospels of Al Jourgensen and is currently working with Anthrax guitarist Scott Ian on his memoir I'm the Man, due in 2014. In the past, he has worked on editorial staffs at Rolling Stone, Guitar magazine, and MTV. He is a senior writer for Revolver magazine and regularly writes for major publications, including Guitar World, emusic.com, and SPIN. He lives in Brooklyn, New York.
Katherine Turman is a journalist and the producer of Alice Cooper's syndicated radio show, Nights with Alice Cooper. She was the editor of RIP magazine and the LA Alternative Press and is a frequent contributor to the Village Voice. She formerly produced the live radio show Rockline, and was a music producer for The Sharon Osbourne Show. She lives in Brooklyn, New York.
or
Not Currently Available for Direct Purchase