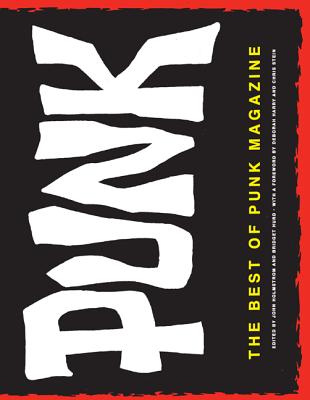 The Best of Punk Magazine
Hardcover

* Individual store prices may vary.
Description
The very best of Punk—the legendary magazine thatdefined an era—finds new life in this stunning anthology, featuring originalarticles along with behind-the-scenes commentary and the backstory on eachissue as told by editor-in-chief John Holmstrom. Punkwas the Bible of the urban counterculture movement. It not only gave punkmusic its name, but influenced the East Village art scene and steered the punkaesthetic and attitude. The Best of Punk Magazine includes high-qualityreprints of hard-to-find original issues, as well as rare and unseen photos,essays, interviews, and even handwritten contributions from the likes of AndyWarhol, Lou Reed, Debbie Harry, the Ramones, the Sex Pistols, Lester Bangs,Legs McNeil, Lenny Kaye, and many more. For collectors, lifelong punks, andthose just discovering what punk is all about, this is the chance see thehistory of the movement come back to life.
Praise For The Best of Punk Magazine…
"This coffee-table book cherry-picks from the archive: a Patti Smith Q&A, a carton strip (with real photos) starring Lester Bangs, and a two-page centerfold of Debbie Harry, who's billed as 'Punk Playmate of the Month.'"
— Rolling Stone, 4 Star Review

The anthology is packed tighter than CBGB in the 70s on a Saturday night, with incredible interviews...art, comics, rants, killer photos, and behind-the-scenes commentary and backstory on each issue from Holmstrom. It's not just the history of the magazine...it conjures up the spirit of an era.
— Vanity Fair

"If you're a punk fan, I'd say this hardcover is pretty essential to your collection."
— USA Today's Pop Candy

"While the thought of a hardcover, slick-papered, coffee-table book anthologizing the decidedly low-rent, ragtag Punk magazine might seem the antithesis of punk, even a curmudgeon like Johnny Rotten would have to spit a gob in appreciation of the nicely done result."
— Houston Press

"The Best of Punk is a funny, visually-stimulating time capsule commemorating the first music periodical of its kind: A subversive, savvy, often-imitated street-intellectual art showcase for punk rock purveyors at the dawn of the Eighties."
— Examiner.com

"Though it only existed from 1976-1980, Punk Magazine captured the zeitgeist of New York's punk music scene as it emerged from a few ramshackle clubs (most notably CBGB's and Max's Kansas City) to the national and international stage."
— Publishers Weekly (starred review)
It Books, 9780061958359, 372pp.
Publication Date: December 18, 2012
About the Author
John Holmstrom is a cartoonist and writer and co-founder (with Legs McNeil) of Punk magazine. He illustrated the covers of the Ramones albums Rocket to Russia and Road to Ruin, and created the characters Bosko and Joe, which were published in Scholastic's Bananas magazine from 1975-1984, as well as in Stop! Magazine, Comical Funnies, Twist, and High Times. Holmstrom's work and unmistakable artistic style has become the key visual representation of the Punk era.