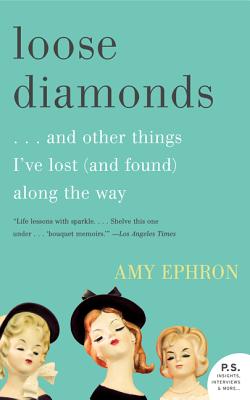 Loose Diamonds
…and Other Things I've Lost (and Found) Along the Way
Paperback

* Individual store prices may vary.
Description
In Loose Diamonds, an engaging collection of essays and observations, Amy Ephron, the acclaimed, award-winning author of the One Sunday Morning and A Cup of Tea, paints a rich, vivid, and comic portrait of modern living from a modern woman's perspective. Fans of the writings of Amy Sedaris and Joan Didion's Slouching Toward Bethlehem will enjoy Ephron's funny, incisive take on the intricate weave of a woman's world.

Praise For Loose Diamonds: …and Other Things I've Lost (and Found) Along the Way…
"Must read ... goes back to her Los Angeles childhood and goes through her marriage, divorce, and remarriage." — Morgan Murrell, Harper's Bazaar
"In Loose Diamonds, Ephron offers a deeply honest and compelling look at the events that made her the woman she is today." — The Daily Beast
"A little gem... she is an expert at introspection as entertainment...the collection masters brevity and range." — Claire Howorth, The Daily
"A fun and engaging read... the pages turn themselves...Not only do the essays stand up on their own, the overarching themes unravel — Julia Gazdag, Hello Giggles
"Readers will enjoy her poignant accessibility... this is a great women's-interest title, appealing to lovers of Ephron's historical fiction and to fans of humorous essays alike." — Annie Bostrom, Booklist
"All of these fascinating experiences and relationships described in Loose Diamonds add to the richness of this loosely woven set of essays. Ms. Ephron's thoughts on marriage, divorce as well as her 'Tips for Women getting a Divorce' are written with wit and panache." — Laura Shultz, New York Journal of Books
"A frothy, lighthearted, often witty collection of essays about marriage, motherhood and the power of a good piece of jewelry." — Shelf Awareness
"The tales are variously charming, funny, poignant, and even hair-raising, as when [Ephron] finds herself spending an afternoon with Manson family alumna Squeaky Fromme." — Jewish Journal of Los Angeles
"Well-written, empathetic, and a joy." — BookLoons Reviews
"Actively intelligent and utterly descriptive, Amy Ephron always makes you feel as if you're right there with her feeling what she's feeling and seeing what she's seeing… Loose Diamonds is a sincerely-written book…that you shouldn't miss." — BookRoom Reviews
William Morrow Paperbacks, 9780061958786, 192pp.
Publication Date: September 4, 2012
About the Author
Amy Ephron is the bestselling author of the acclaimed novels One Sunday Morning and A Cup of Tea. Her magazine pieces and essays have appeared in Vogue; Saveur; House Beautiful; the National Lampoon; the Los Angeles Times; the Huffington Post; Defamer; her own online magazine, One for the Table; and various other print and online publications. She recently directed a short film, Chloe@3AM, which was featured at the American Cinematheque's Focus on Female Directors Short Film Showcase in January 2011. She lives in Los Angeles with her husband, Alan Rader, and any of their five children who happen to drop in.