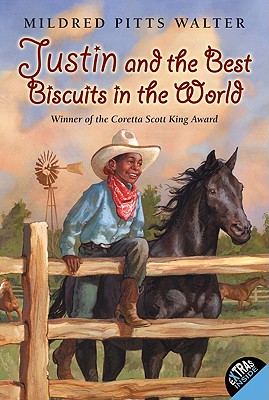 Justin and the Best Biscuits in the World (Paperback)
Amistad, 9780061958915, 144pp.
Publication Date: March 9, 2010
Other Editions of This Title:
Hardcover (10/10/1986)
Paperback (12/12/1990)
(1/1/2001)
* Individual store prices may vary.
Description
Ten-year-old Justin hates that his sisters and his mama are always fussing at him. They make him feel stupid because he can't clean his room or cook. But why should he? He'd rather be outside playing. After all, cooking and cleaning is just "women's work." That's why Justin is glad when his grandfather invites him back to his ranch for the summer. Justin is sure he can get away from all the women and do some actual "men's work," such as cleaning fish, mending fences, and riding horses. But back at the ranch, Justin learns some unexpected lessons and soon realizes that anyone can do anything once they learn how.
About the Author
Mildred Pitts Walter is widely admired for her positive, realistic portraits of African-American family life. A former kindergarten teacher, she truly enjoys the company of children and relishes hearing what they have on their minds.Mrs. Walter has been honored with many awards during her long writing career, including the 1987 Coretta Scott King Award for justin and the best biscuits in the world and the 1993 Christopher Award for Nonfiction for mississippi challenge (Bradbury). Mildred Pitts Walter lives in Denver. In 1996 she was inducted into the Colorado Women's Hall of Fame.
Catherine Stock lives in New York City and France.
Praise For Justin and the Best Biscuits in the World…
"Refreshing, likable characters, an exciting rodeo and a history of the black cowboys combine to create a very special story."
— Publishers Weekly