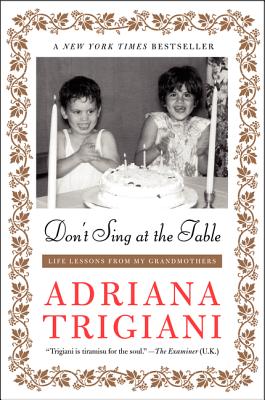 Don't Sing at the Table (Paperback)
Life Lessons from My Grandmothers
Harper Paperbacks, 9780061958953, 240pp.
Publication Date: October 4, 2011
Other Editions of This Title:
Digital Audiobook (11/8/2010)
Paperback, Large Print (11/9/2010)
Hardcover (11/9/2010)
* Individual store prices may vary.
Description
"No one ever reads just one of Trigiani's wonderfully quirky tales. Once you pick up the first, you are hooked." —BookPage
New York Times bestselling author Adriana Trigiani shares a treasure trove of insight and guidance from her two grandmothers: time-tested, common sense advice on the most important aspects of a woman's life, from childhood to the golden years. Seamlessly blending anecdote with life lesson, Don't Sing at the Table tells the two vibrant women's real-life stories—how they fell in love, nurtured their marriages, balanced raising children with being savvy businesswomen, and reinvented themselves with each new decade. For readers of Big Stone Gap, Very Valentine, Lucia, Lucia, and Rococo, this loving memoir is the Trigiani family recipe for chicken soup for the soul

About the Author
Beloved by millions of readers around the world for her "dazzling" novels, (USA Today) Adriana Trigiani is "a master of palpable and visual detail" (Washington Post) and "a comedy writer with a heart of gold" (New York Times). She is the New York Times bestselling author of eighteen books in fiction and nonfiction, published in 38 languages, making her one of the most sought after speakers in the world of books today.
Adriana is also an award-winning film director and screenwriter, playwright, and television writer and producer. Her screen adaptation of her bestselling novel Very Valentine premiered on Lifetime television in June 2019, launching their National Book Club. In 2018, she directed the feature film Then Came You, filmed on location in the Highlands of Scotland. She wrote and directed the award-winning major motion picture Big Stone Gap, based on her debut novel, filmed entirely on location in her Virginia hometown. Big Stone Gap spent 11 weeks in theatres in the fall of 2015 and was the #2 top-grossing romantic comedy of the year. She wrote and directed the documentary film, Queens of the Big Time, winner of the Audience Award at the Hamptons and Palm Springs International Film Festivals. Adriana co-founded The Origin Project, an in-school writing program which serves over 1,700 students in the Appalachian Mountains of Virginia. She lives in New York City with her family.
Join Adriana on Facebook and Instagram @AdrianaTrigiani or visit her website: AdrianaTrigiani.com
Praise For Don't Sing at the Table: Life Lessons from My Grandmothers…
"Best-selling author Trigiani (Very Valentine) presents a loving paean to her Italian grandmothers... there is much warmth in these remembrances that will resonate with readers who enjoyed strong relationships with their own grandparents and know the value they can bring to our lives."
— Library Journal

"[C]harming… comforting lessons for readers seeking a simpler way of life."
— Kirkus Reviews

"Soothingly and with clarity…. Readers will find her strength and optimism helpful, and her legions of loyal fans will enjoy learning more about the women who influenced, inspired, and, according to Trigiani, made possible some of her best-selling fiction."
— Booklist

"Trigiani combines family and American history, reflections on lives well-lived, and sound advice to excellent effect, as a legacy to her daughter and a remembrance of two inimitable women."
— Publishers Weekly

"One of the reigning queens of women's fiction."
— USA Today

"Delightful, energetic. . . . Trigiani is a seemingly effortless storyteller."
— Boston Globe

"Trigiani has certainly not lost her ability to breathe life into everything she writes."
— Roanoke Times

"Well crafted work with sometime lyrical, sometimes flat-out-funny writing."
— Fort Worth Star-Telegram

"Adriana Trigiani listens to her readers, then gives them what they want. "
— Richmond Times-Dispatch

"Dazzling."
— USA Today
Adriana wrote that she was able to write Don't Sing at the Table because her grandmothers "never threw anything away—clothing, bank records, contracts, wills, newspaper clippings, photographs." What did your grandmothers pass down to you? What can those items tell you about the way they lived their lives?
Adriana wrote of Lucia, "No one ever in the course of my entire life was ever as happy to see me as she was. Looking back now, I realize that you only ever need one person who lights up that way when you enter a room. One person is all it takes to give a kid confidence." Who was that person for you?
Is craftsmanship valued as much today as it was in Viola and Lucia's time? What has changed?
Adriana recalled "Venetian eggs"—poached eggs in homemade tomato sauce with fresh dandelion—as one of her favorite meals Viola made her. What are some of your favorite meals your grandmothers made you?
In what ways were Viola and Lucia different? In what ways were they similar? Do you recognize aspects of your own grandmothers in them? Do you recognize aspects of yourself?
Adriana and her sisters still wear Viola's coats. Do you wear any of your grandmothers' clothing or jewelry? What did they teach you about style and beauty?
Adriana wrote, "Our family stories have it all: risk, adventure, romance and intrigue. The places my grandmothers came from were described in stories they told." What is a favorite story your grandmother told?
Lucy and Viola only met once. Though "they held one another at a respectful distance, there was an underlying camaraderie". What was the relationship between your grandmothers?
Which "life lessons" described in Don't Sing at the Table do you value most? Did your grandmothers pass down any of the same advice to you?
What are your rules for living? Do you share any with Viola and Lucia?