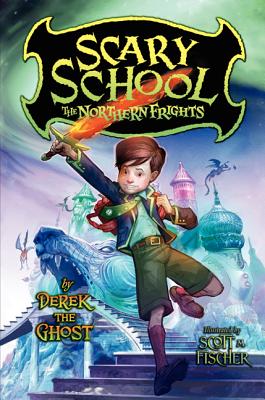 Scary School #3 (Hardcover)
The Northern Frights
HarperCollins, 9780061960987, 272pp.
Publication Date: June 25, 2013
* Individual store prices may vary.
Description
In The Northern Frights, the third book in the spooky Scary School series, Charles "New Kid" Nukid and his friends, including Lattie, a girl ninja, must fight an epic battle with an ice dragon to save their school. But first they must survive going to Scream Academy as exchange students. And that may be hard, because the Academy has an abominable snowman for a principal, a Headless Horseman as one of the teachers, and the students are yetis, trolls, and ogres!
 
Will Charles survive to make an ancient prophecy come to pass and save everyone? The illustrated Scary School trilogy by Derek the Ghost, with its mix of humor, scares, and adventure, is a perfect pick for middle-grade readers of the Wayside School series and the Zach Files books.
About the Author
Derek the Ghost is an eleven-year-old ghost who haunts the classrooms and hallways of Scary School writing down all the spine-tingling, often hilarious things that go on there. He is the author of Scary School and Scary School #2: Monsters on the March. Despite his ghostly state, Derek still enjoys reading comic books and hopes to one day become a master ninja. If that doesn't work out, he will continue to share the fun of this very special, very secret school, so all kids can experience the scariest school on earth.
Scott M. Fischer has illustrated many books, including the New York Times bestselling Peter Pan in Scarlet, Jump!, Animals Anonymous, and the Secrets of Dripping Fang series. Scott graduated from the Savannah College of Art and Design. He lives in western Massachusetts with his wife, daughter, dog, cat, goldfish, and a cockatoo named Fred.
Praise For Scary School #3: The Northern Frights…
Praise for Scary School: "For fans of the Wayside and Bailey School series, the Zack Files, [and] Ghostville Elementary."
— Kirkus Reviews

Praise for Scary School: "[T]his is a laugh-out-loud offering that should find a broad and appreciative audience among boys and girls alike."
— Booklist

Praise for Scary School: "I died laughing. Weird monsters in silly situations. Why didn't I think of that?"
— Dan Gutman, author of My Weird School and The Genius Files

Praise for Scary School: "Spooky, ooky, and kooky, Scary School reminds me of my middle school."
— Chris Grabenstein, award-winning author of the Haunted Mysteries series

Praise for Scary School: "Scary School is the perfect combination of hilarious and terrifying. It's hilarifying!"
— E.J. Altbacker, author of the Shark Wars series