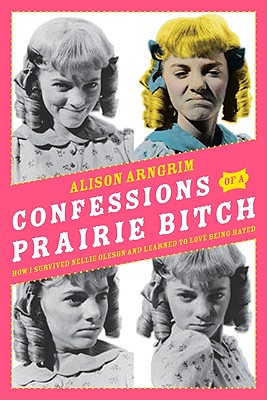 Confessions of a Prairie Bitch (Hardcover)
How I Survived Nellie Oleson and Learned to Love Being Hated
It Books, 9780061962141, 302pp.
Publication Date: June 1, 2010
* Individual store prices may vary.
Description
Confessions of a Prairie Bitch is Alison Arngrim's comic memoir of growing up as one of television's most memorable characters--the devious Nellie Oleson on the hit television show Little House on the Prairie. With behind-the-scenes stories from the set, as well as tales from her bohemian upbringing in West Hollywood and her headline-making advocacy work on behalf of HIV awareness and abused children, Confessions of a Prairie Bitch is a must for fans of everything Little House the classic television series and its many stars like Michael Landon and Melissa Gilbert; Gilbert's bestselling memoir Prairie Tale... and, of course, the beloved series of books by Laura Ingalls Wilder that started it all.
Praise For Confessions of a Prairie Bitch: How I Survived Nellie Oleson and Learned to Love Being Hated…
"Hilarious and heartbreaking."
-Atlanta Journal-Constitution

"Arngrim, decades past her 'Little House On The Prairie' years, dishes lots of great on-set stories, talks about what being a kid actor in the 1970s was actually like and discusses her own painful family history with frankness and humor....Delightful."
-NPR.org

"Spunky Alison Arngrim, who played Nellie [Oleson], gets my kudos...Alison has a knack for yanking people's chains in a good way. And her new bestselling memoir, Confessions of a Prairie Bitch, is such an absorbing read, I just had to give the woman a call for some bitch talk."
-Michael Musto, Village Voice

"'Confessions of a Prairie Bitch' says it all: Neither Arngrim nor Nellie could ever be called boring."
-Entertainment Weekly

"Courage, moxie, chutzpah , cajones. Alison Arngrim has them all in spades. In "Confessions of a Prairie Bitch," she bares her soul and manages to share her story with grace, dignity, and her inimitable humor. Simply put, I love this book and I love her. "
-Melissa Gilbert

"Alison Arngrim, familiar to a generation of TV viewers as the petulant Nellie Oleson of 'Little House On The Prairie,' is dishing the dirt on Walnut Grove."
-AOL PopEater

"Arngrim displays a healthy sense of humor."
-Chicago Sun-Times

Arngrim looks back on playing the pint-sized sociopath in her memoir, "Confessions of a Prairie Bitch," in which she merrily recalls show creator and star Michael Landon, that infamous blond wig, and how Nellie inspired her lifelong obsession with villainy."
-New York Post

"Alison Arngrim is a talented actress and an author who has patched together a meaningful life and created a book whose pages…fly."
-Phyllis Diller

"As a city bitch myself, I loved this book! It's nice to see how the other half lives. Alison Arngrim's memoir is a hilarious, moving, and dishy Hollywood tale."
-Margaret Cho

"Alison Arngrim is a fine actress and a true comedienne. She has always been the kind of 'Bitch' who tells it like it is. So, readers beware, you are in for an eye-full of reality told with a remarkable sense of humor."
-Carol Channing

"Whoa, Nellie! "Confessions of a Prairie Bitch" is a book that you will keep stored under a haystack in the barn, to dip into whenever you need a shot of something that will keep you down on the farm."
-Bruce Vilanch
or
Not Currently Available for Direct Purchase