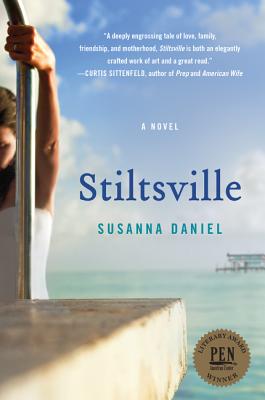 Stiltsville
A Novel
Paperback

* Individual store prices may vary.
Other Editions of This Title:
Hardcover, Large Print, Large Print (1/1/2011)
MP3 CD (7/26/2016)
Hardcover (8/1/2010)
Description
"A wise and loving portrait of a marriage. . . . Susanna Daniel writes beautifully of matters of the heart."
— Jennifer Haigh, author of The Condition
Against a vivid South Florida background, Susanna Daniel's Stiltsville offers a gripping, bittersweet portrait of a marriage—and a romance—that deepens over the course of three decades. Called "an elegantly crafted work of art and a great read" by Curtis Sittenfeld (American Wife, Prep) Stiltsville is a stunningly assured debut novel sure to appeal to readers of Anita Shreve, Sue Miller, and Annie Dillard, or anyone enchanted by the sultry magic of Miami.
Praise For Stiltsville: A Novel…
"I fell in love with Susanna Daniel's characters, Dennis and Frances. The dialogue, the pacing, and the tenderness between this married couple is so authentic and true. But it's the setting of Florida, and especially the place that is Stiltsville, that literally elevates this story to magic."
— Hannah Tinti, author of The Good Thief

"This soulful novel will inspire you to reflect on your own definitions of house, home, and what really makes a couple close."
— Redbook

"Both structurally and in tone, the book recalls linked short-story collections such as Alice Munro's The Beggar Maid, following one character chronologically through a long period. Each piece can stand alone, but the whole is enriched when they are read together. . . . Lovely."
— Laura C.J. Owen, Minneapolis Star Tribune

"A quietly remarkable novel. . . . Reminiscent of Marilynn Robinson's Home."
— Scott Eyman, Palm Beach Post

"A deeply engrossing tale of love, family, friendship, and motherhood, Stiltsville is both an elegantly crafted work of art and a great read. The love story effortlessly spans decades, and the characters are as real and vivid as the novel's South Florida backdrop. Susanna Daniel is an extraordinary writer."
— Curtis Sittenfeld, author of Prep and American Wife

"Set against the wild and changeable landscape of South Florida, Stiltsville is a wise and loving portrait of a marriage, written with keen insight into the ways two lives grow together over the years. This is a rare first novel. Susanna Daniel writes beautifully of matters of the heart."
— Jennifer Haigh, author of The Condition, Baker Towers, and Mrs. Kimble

"In this wise and luminous novel, Susanna Daniel does something truly rare: she creates characters so real that you feel they've entered the very room where you sit reading. Before you know it, they've also entered your heart, and are breaking it…. A work of tremendous maturity, empathy and humanity."
— Dani Shapiro, author of Devotion and Black and White

"I fell in love in the opening pages of Stiltsville. There was nothing I wanted more than to spend time in the company of these vivid characters and keep reading Susanna Daniel's lovely, lucid prose."
— Margot Livesey, author of The House on Fortune Street
Harper Perennial, 9780061963087, 336pp.
Publication Date: June 28, 2011
About the Author
Susanna Daniel was born and raised in Miami, Florida. Her first novel, Stiltsville, was awarded the PEN/Bingham prize for debut fiction. She is a graduate of Columbia University and the Iowa Writers' Workshop, and lives in Madison, Wisconsin.
Frances is writing a memoir of her marriage and family life, but she chooses to highlight only particular years and summarize others. Why do you think she focuses on these events?
How does the novel mimic the memoir form? How does it differ from it? Why do you think the author chose to tell the story so much like a memoir?
Miami has changed a lot since the years of the novel. How would this family be different if they were living in Miami at the present time?
A lot has been made of the life-changing decision Frances makes at the very end of the novel. Why do you think she made that decision? Would you make the same one, or a different one, if you were in her shoes?
Stiltsville has been called a love story but not a romance. Do you agree? Why?
Though her life is conventional — husband, child, home — Frances comes to understand that her life is not mapped, that very little can be predicted for the future. Do you think that's true of your own life?
How would you characterize the relationship between the narrator and the other women in the novel — Bette, Marse, Margo, and Gloria? Are these relationships realistic or typical? In what ways do they defy convention and stereotype?
Discuss in particular the relationship between Frances and Marse, which survives an early trauma when Dennis falls for Frances instead of Marse. How does their friendship make it through this? Who is more responsible for the friendship's salvation?
The last line of the book offers, ultimately, a justification for the act of telling the story. Discuss what this line means and how it relates to the book as Frances' post-marriage project.