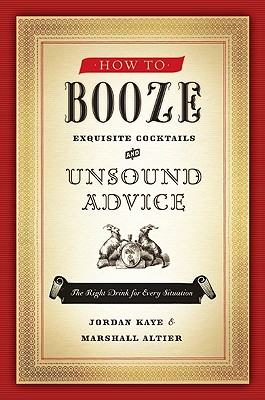 How to Booze: Exquisite Cocktails and Unsound Advice (Paperback)
Exquisite Cocktails and Unsound Advice
Harper Paperbacks, 9780061963308, 190pp.
Publication Date: May 18, 2010
Description
Offering exquisite cocktails and unsound advice, How to Booze by Jordan Kaye and Marshall Altier pairs the perfect cocktail with unfailingly entertaining advice for all of life's most alcohol-inducing moments. Much more than just a guide to mixology, How to Booze is a hilarious and remarkably prescient, if somewhat degenerate, guide to life--or at least that part of life that would be greatly improved in the company of Johnny Walker or Jack Daniels.
Praise For How to Booze: Exquisite Cocktails and Unsound Advice…
"If you're not sure how to booze, this book will lead the way. If you think that you do know how to booze, it will show you where you've been going wrong. A delightful read with an opinion all its own, along with style, wisdom, and lots of sarcasm."
-gaz regan, co-host of ardentspirits.com and author of The Joy of Mixology

"[A] sharp guide to drinks for every conceivable occasion…buoyed by wit as bracing as a gin martini …Rather than devolving into sheer novelty, misogyny or mean-spiritedness, the authors deftly walk the line… between the educational and the irreverent, making for a terrifically entertaining guide to informed imbibing."
-Publishers Weekly (starred review)

"Prepare to make delicious drinks and then spurt them out your nose all over your kitchen laughing at this naughty cocktail and awkward-social-situation survival guide….[E]ncourages cocktail consumption and mischief!"
-Drink Me magazine

"[E]ntertaining….like getting a talking-to from a bartender who's seen it all …. The drinks advice is remarkably good, from empowering explanations of cocktail fundamentals to variations on classics that are well worth trying."
-Booklist

"[O]ne part bar guide, two parts liquor love sonnet....the book serves up classic cocktails and delightfully witty reasons to drink them."
-Associated Press
Advertisement