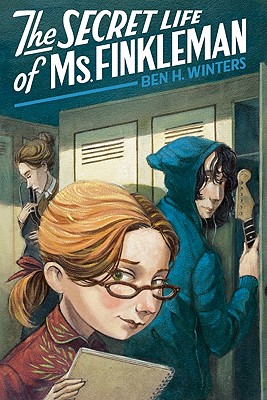 The Secret Life of Ms. Finkleman (Paperback)
HarperCollins, 9780061965432, 272pp.
Publication Date: September 20, 2011
* Individual store prices may vary.
Description
It all started with a Special Project: Solve a mystery in your own life.
For seventh grader Bethesda Fielding, one mystery is too tempting to ignore. She's convinced that her mousy Music Fundamentals teacher is hiding a secret life. But no one is prepared for what she discovers. Ms. Finkleman used to be . . . a rock star? Soon the whole school goes rock crazy, and a giant concert is in the works, led by none other than timid Ms. Finkleman!
But is the case really closed or could there be even more to the story of Ms. Finkleman? With the help of her rock-obsessed classmate, Tenny Boyer, Bethesda won't stop until she solves this mystery once and for all!
About the Author
Ben H. Winters is an author and educator who has written plays and musicals for children and adults, as well as several books in the bestselling Worst-Case Scenario Survival Guide series. He is also the author of The Secret Life of Ms. Finkleman, Bedbugs, and the parody novels Android Karenina and the bestselling Sense and Sensibility and Sea Monsters. He lives in Indianapolis.
Praise For The Secret Life of Ms. Finkleman…
"A fast-paced, funny, and highly original story."
— Publishers Weekly (starred review)

"Every now and then a book comes along that reminds me why I love writing about middle school. Ms. Finkleman rocks—in every sense of the word."
— Gordon Korman, New York Times bestselling author

"Liberally laced with humor and featuring an upbeat heroine, unexpected friendship and rock-music trivia. Readers will rock with laughter."
— Kirkus Reviews

"This is a just-plain-fun read that culminates in a wholly satisfying ending, and it will easily appeal to fans of Andrew Clements and Gordon Korman, as well as anyone who ever watched School of Rock or High School Musical and imagined putting on the best show ever."
— Booklist

"Witty narration and entertaining characters enliven this already intriguing premise. Readers seeking an engaging school story with a rockin' twist will enjoy this offering."
— Bulletin of the Center for Children's Books

"With 'The Secret Life,' Winters applies a light touch that fuses youthful, scholarly exuberance with the inspirational power of rock'n'roll. A fast paced and unjaded book that is sure to delight."
— Los Angeles Times Book Review

"Most enjoyable is the effect that learning and playing rock music has on the teacher's students. Everyone seems to discover their true inner selves through music, and that includes the not-so-myterious-after-all Ms. Finkleman."
— School Library Journal