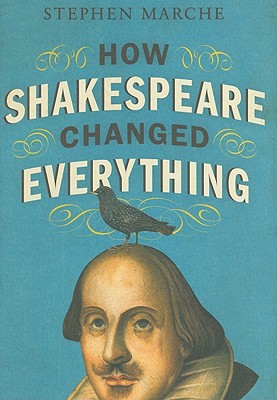 How Shakespeare Changed Everything (Hardcover)
Harper, 9780061965531, 224pp.
Publication Date: May 10, 2011
Other Editions of This Title:
Paperback (8/7/2012)
* Individual store prices may vary.
Description
Esquirecolumnist Stephen Marche gives an expansive and exciting look at WilliamShakespeare's pervasive influence on every aspect of modern culture—showing ushow we can find Shakespeare even where we least expect him. In the spirit ofAlain de Botton's How Proust Can Change Your Life,Marche reveals how Shakespeare's influence is everywhere—from politics topsychotherapy, broadway to botany, emo teenagers to outrageous baby names, even zoology (didyou know it's the Bard who is responsible for the starlings terrorizing NewYork City's Central Park?). Fans of literary trivia and readers of StephenGreenblatt's Will in the World and Bill Bryson's Shakespeare: TheWorld as Stage will be captivated by Marche's artful reading of how everyday can bring a fresh reading of the Immortal Bard of Avon.
About the Author
STEPHEN MARCHE
is a contributing editor at
Esquire
magazine. He also writes regular features and opinion pieces for
The Atlantic
,
The New York Times
,
The Walrus
and elsewhere, and is a weekly contributor to CBC Radio. His books include four novels,
The Hunger of the Wolf
,
Raymond and Hannah
,
Shining at the Bottom of the Sea
and
Love and the Mess We're In
, as well was a work of non-fiction,
How Shakespeare Changed Everything
. He lives in Toronto with his wife and children.
Praise For How Shakespeare Changed Everything…
"How Shakespeare Changed Everything will provide the details and keep you amused while it does. A teacher who makes the class read the book won't get much backlash from the sourpuss who calls Shakespeare dull and out-of-date."
— Associated Press

"How Shakespeare Changed Everything is a joyful little book that is a love note to the greatest writer in the English language: never syrupy or over the top, it's a pleasure to read."
— Bookreporter.com

"This is a wonderful book about seeing the world through Shakespeare-tinted glasses. You'll never look at the food court, Justin Beiber—or, for that matter, the English language—the same way again."
— A. J. Jacobs, author of The Year of Living Biblically

"How Shakespeare Changed Everything is fun and informative, with more than its share of 'Aha!' moments packed between its diminutive covers. Mr. Marche's thesis is compelling and probably more true than we ever imagined."
— New York Journal of Books

"A sprightly, erudite sampling of Shakespeare's influence on absolutely everything."
— National Post

"An ambitious and entertaining new book...[How Shakespeare Changed Everything] explores the many, often unsuspected ways in which the great playwright shaped just about every facet of contemporary culture."
— Maria Popova, BrainPickings.com

"In his highly readable, never ponderous, sometimes funny, often insightful new book, [Stephen Marche] credits the Bard with everything from shaping American history (the rise of Obama, the fall of Lincoln) to the very enjoyable sex you had last night."
— Wicked Local

"Informed, ebullient and profoundly respectful."
— Kirkus Reviews

"[How Shakespeare Changed Everything] is informative and entertaining."
— Publishers Weekly

"[A] charming tribute...This highly accessible paean to someone whom Marche describes as "the world's most powerful writer" serves as yet another reminder of the impact Shakespeare has had on culture worldwide."
— Quill & Quire

"We are lucky that Stephen Marche had his mind blown by Shakespeare; we are luckier still that in making the argument for Shakespeare's inextinguishable relevance, he has given us a contact high."
— Tom Junod

"There's not a drop of boredom in this little book."
— Huntington News
or
Not Currently Available for Direct Purchase