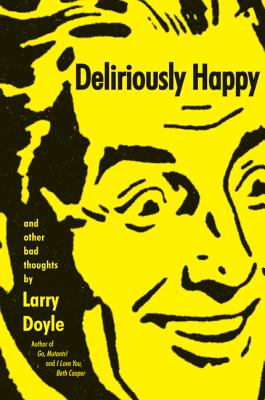 Deliriously Happy (Paperback)
Ecco Press, 9780061966835, 273pp.
Publication Date: November 8, 2011
* Individual store prices may vary.
or
Not Currently Available for Direct Purchase
Description
"No matter the subject, Doyle can be trenchant, funny, esoteric, and unpredictable."
--Publishers Weekly
A former writer for The Simpsons and winner of the James Thurber Prize for American Humor, Larry Doyle redefined end-of-school-life angst with his novel I Love You, Beth Cooper and put the alien back in alienation with Go, Mutants And now he's Deliriously Happy, bringing readers a compilation of truly hilarious short pieces including favorites from The New Yorker and Esquire as well as all-new, never before published comic gems. Dave Barry did it. So did Simon Rich, Woody Allen, and Ian Frazier. Now Larry Doyle's making his mark with an uproarious collection of side-splitting observances about everything from birth to death and beyond. Anyone who loves to laugh will be Deliriously Happy.

Praise For Deliriously Happy…
"Larry Doyle's nervy, off-the-wall, often naughty, always hilarious essays will make you Deliriously Happy."
-Vanity Fair

"Dark, funny, strange, funny, angst, funny. Sometimes we felt bad for laughing. But we did it anyway."
-Huffington Post, 11 Books You Need to Know About

"Delightful — letter-perfect literature parodies, absurd tabloid-rag quizzes, and a slew of other unlikely stylistic landings stuck."
-Flavorpill

"Doyle's third book, Deliriously Happy...collects Doyle's humorous essays from The New Yorker, National Lampoon, Esquire, and elsewhere. His scenarios often feature characters who are in fact deliriously—or delusionally—happy."
-The Onion A.V. Club

"A dizzyingly diverse and consistently hilarious body of short humor pieces originally published in a variety of publications, making a case for the former Simpsons scribe as one of the premier practitioners of the form....An unpredictable, unfailingly intelligent demonstration of a unique wit given free reign."
-Kirkus

"No matter the subject, Doyle can be trenchant, funny, esoteric, and unpredictable."
-Publishers Weekly
Advertisement