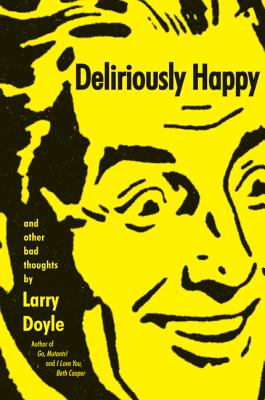 Deliriously Happy (Paperback)
and Other Bad Thoughts
Ecco, 9780061966835, 288pp.
Publication Date: November 8, 2011
Other Editions of This Title:
Compact Disc (3/1/2012)
Compact Disc (7/10/2012)
* Individual store prices may vary.
Description
"No matter the subject, Doyle can be trenchant, funny, esoteric, and unpredictable."
 —Publishers Weekly
A former writer for The Simpsons and winner of the James Thurber Prize for American Humor, Larry Doyle redefined end-of-school-life angst with his novel I Love You, Beth Cooper and put the alien back in alienation with Go, Mutants! And now he's Deliriously Happy, bringing readers a compilation of truly hilarious short pieces including favorites from The New Yorker and Esquire as well as all-new, never before published comic gems. Dave Barry did it.  So did Simon Rich, Woody Allen, and Ian Frazier. Now Larry Doyle's making his mark with an uproarious collection of side-splitting observances about everything from birth to death and beyond. Anyone who loves to laugh will be Deliriously Happy.

About the Author
Larry Doyle goes by thelarrydoyle on Facebook, Twitter, and in real life. Too much information about him is available at larrydoyle.com.
Praise For Deliriously Happy: and Other Bad Thoughts…
"Larry Doyle's nervy, off-the-wall, often naughty, always hilarious essays will make you Deliriously Happy."
— Vanity Fair

"Dark, funny, strange, funny, angst, funny. Sometimes we felt bad for laughing. But we did it anyway."
— Huffington Post, 11 Books You Need to Know About

"Delightful — letter-perfect literature parodies, absurd tabloid-rag quizzes, and a slew of other unlikely stylistic landings stuck."
— Flavorpill

"Doyle's third book, Deliriously Happy...collects Doyle's humorous essays from The New Yorker, National Lampoon, Esquire, and elsewhere. His scenarios often feature characters who are in fact deliriously—or delusionally—happy."
— The Onion A.V. Club

"A dizzyingly diverse and consistently hilarious body of short humor pieces originally published in a variety of publications, making a case for the former Simpsons scribe as one of the premier practitioners of the form....An unpredictable, unfailingly intelligent demonstration of a unique wit given free reign."
— Kirkus Reviews

"No matter the subject, Doyle can be trenchant, funny, esoteric, and unpredictable."
— Publishers Weekly
or
Not Currently Available for Direct Purchase