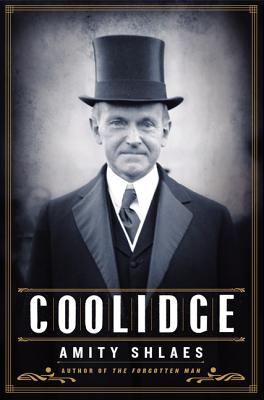 Coolidge (Hardcover)
HarperTorch, 9780061967559, 565pp.
Publication Date: February 12, 2013
* Individual store prices may vary.
or
Not Currently Available for Direct Purchase
Description
Amity Shlaes, author of The Forgotten Man, delivers a brilliant and provocative reexamination of Americas thirtieth president, Calvin Coolidge, and the decade of unparalleled growth that the nation enjoyed under his leadership. In this riveting biography, Shlaes traces Coolidges improbable rise from a tiny town in New England to a youth so unpopular he was shut out of college fraternities at Amherst College up through Massachusetts politics. After a divisive period of government excess and corruption, Coolidge restored national trust in Washington and achieved what few other peacetime presidents have: He left office with a federal budget smaller than the one he inherited. A man of calm discipline, he lived by example, renting half of a two-family house for his entire political career rather than compromise his political work by taking on debt. Renowned as a throwback, Coolidge was in fact strikingly modernan advocate of womens suffrage and a radio pioneer. At once a revision of man and economics, Coolidge gestures to the country we once were and reminds us of qualities we had forgotten and can use today.
Praise For Coolidge…
"Amity Shlaes's new biography carries a different and highly relevant message. . . . Read Coolidge, and better understand the forces bearing on the President and Congress almost a century later."
-Paul Volcker

"To read Amity Shlaes's well-crafted biography is to understand why Reagan so admired the famously reticent man whom Shlaes calls 'our great refrainer.'"
-George F. Will

"Amity Shlaes's extraordinary biography describes how a single politician can change an entire political culture -- a story with plenty of echoes today. Alice Roosevelt Longworth, doyenne of the Washington salons, first disdained Coolidge, then admired him. After reading Coolidge, every reader will, too."
-Anne Applebaum

"A marvelous book that is in many respects as subtle and powerful as Coolidge himself. Shlaes's masterly command of economics, policy, and personal portraiture illustrates the times, talents, character, and courage of the consummate New Englander."
-Mark Helprin

"Coolidge is a welcome new biography of a great American president. Amity Shlaes shines fresh light on a leader of humble persistence who unexpectedly found himself in the presidency and whose faith in the American people helped restore prosperity during a period of great turmoil. Amidst today's economic hardships and an uncertain future, Shlaes illuminates a path forward -- making Coolidge a must-read for policymakers and citizens alike."
-Paul Ryan
Advertisement