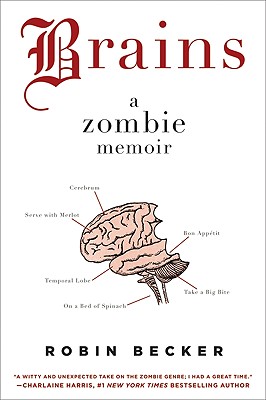 Brains (Paperback)
A Zombie Memoir
Harper Voyager, 9780061974052, 192pp.
Publication Date: May 25, 2010
* Individual store prices may vary.
Description
"A witty and unexpected take on the zombie genre; I had a great time."
—Charlaine Harris, #1 New York Times bestselling author of the Sookie Stackhouse novels
Subtitled "A Zombie Memoir," Brains looks at America's favorite walking-dead flesh-eaters from an audaciously original and deliciously gruesome new perspective. Debut author Robin Becker blazes new ground with this story of former college professor-cum-sentient zombie Jack Barnes, who recounts the tale of the resistance he organized in the wake of the recent zombie apocalypse. World War Z; Shaun of the Dead; Pride, Prejudice, and Zombies… Becker tops them all with Brains—a witty, tasty treat for anyone who every spent a midnight glued to a classic George A. Romero zombie epic!
About the Author
Robin Becker is waiting for the Zombie Apocalypse. In the meantime, she plays guitar, fishes with her husband, and teaches writing at the University of Central Arkansas. This is her first novel.
Praise For Brains: A Zombie Memoir…
"Becker's humorous first-person narrative will have readers rooting for the zombie crew, and she keeps the action moving at breakneck pace. Smart, funny, weirdly uplifting, Brains is a most welcome addition to zombie lit."
— Booklist

"An unusual take on the zombie genre: part Grapes of Wrath, part postmodern memoir.... Becker's writing is crisp."
— Publishers Weekly

"Barnes, a rare sentient zombie, tries to develop a program to create a zombie-human nation, but sadly, all he wants is a brain. Yours. A witty and unexpected take on the zombie genre; I had a great time."
— Charlaine Harris, #1 New York Times bestselling author

"Smart, original, funny and fascinating, Brains: A Zombie Memoir by Robin Becker sends the zombie genre shambling in a fresh, new direction. Go on, take a bite."
— Jonathan Maberry, New York Times bestselling author of Patient Zero and Rot & Ruin

"A zombie delight for the thinking man (and woman), Brains is a feast of literary parallels, pop culture references, and historical metaphors, with enough blood, guts, and brains to satisfy any zombie lover's appetite. Smart, gory, and fun."
— S.G. Browne, author of Breathers: A Zombie's Lament

"A zany disembowelment of American pop culture. Snarky. Gory. Out of control. Dementedly delicious...brainilingus!"
— Mario Acevedo, author of Werewolf Smackdown

"Witty and clever, Brains is a thinking zombie's book about what it means to be human, or almost human, and what we all owe each other whether we like it or not."
— David Wellington, author of Monster Island