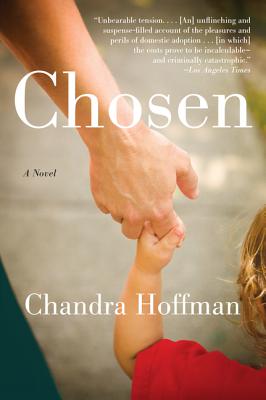 Chosen (Paperback)
Harper Paperbacks, 9780061974311, 306pp.
Publication Date: November 8, 2011
* Individual store prices may vary.
or
Not Currently Available for Direct Purchase
Description
"Gritty and suspenseful, Chosen draws us into the obstacle-strewn path of domestic adoption."
--Juliette Fay, author of Shelter Me
A young caseworker increasingly entangled in the lives of adoptive and birth parents faces life-altering choices when an extortion attempt goes horribly wrong in Chosen. Written in the spirit of Jodi Picoult and Anna Quindlen, Chosen is an extraordinary debut novel from Chandra Hoffman that deals with the controversial subject of adoption while providing a riveting read that will equally ensnare lovers of suspense, domestic drama, and literary fiction.

Praise For Chosen…
"A page-turner that rings true. . . . This engrossing read will appeal to fans of domestic fiction luminaries Jodi Picoult, Sue Miller, and Chris Bohjalian."
-Library Journal

"A shocking ending."
-USA Today

"[Hoffman's] sparkling debut fully engages the reader with Chloe's altruistic dreams and the predicament in which she unexpectedly finds herself."
-Booklist

"Gripping. . . . A heartfelt story well told."
-Kirkus Reviews

"This riveting debut novel from Chandra Hoffman will keep you on edge until its final glorious pages. Enlightening, terrifying, and big-hearted, Chosen is a terrific book!"
-Ann Hood, author of The Red Thread

"Gritty and suspenseful, Chosen draws us into the obstacle-strewn path of domestic adoption. Hoffman's characters are complex and sympathetic in strikingly different ways, even those who appear at first glance to be irredeemable."
-Juliette Fay, author of Shelter Me

"Chandra Hoffman's Chosen is a finely tuned page-turner. . . . There is no perfect happiness here; instead, there is the unexpected grace of discovering that getting what we want is so often less ideal than wanting what we get. This is an outstanding debut."
-Therese Fowler, author of Reunion and Souvenir

"With sensitivity and keen insight, Chandra Hoffman's absorbing first novel Chosen explores the demanding, uplifting, and emotionally explosive world of adoption. Touching, immediately involving, as well as propulsively readable, Chosen heralds a powerful and distinctive new voice in contemporary women's fiction."
-Liza Gyllenhaal, author of Local Knowledge

"In one of the most self-assured debuts I've read, Chosen takes the charged and important issue of adoption and spins it into a gripping story that will keep readers captivated. Chandra Hoffman, a superb artist and storyteller, has written a beautiful and compelling novel."
-Leonard Chang, author of Crossings

"Unbearable tension. . . . Chandra Hoffman's unflinching and suspense-filled account of the pleasures and perils of domestic adoption . . . is a wrenching portrait."
-Los Angeles Times
Chosen is told from multiple characters' points of view. How did these diverse voices inform your reading and your perceptions of the characters? Would the novel have been a completely different story if told by one narrator?
Message boards play an integral role in Francie's story. What do you make of her online relationship with Eva versus their in-person dynamic? How does their reliance on electronic communication affect their bond and the events that unfold between them?
Desire, both for people and objects, is a central theme in the novel. As Penny says on p. 160, "Maybe she shouldn't want things anymore. But she does." Why does she feel that way? What does each couple want most? Can wanting something too much be dangerous? Use examples from the book.
Many people believe Chloe is motivated to help build families as a social worker because of the tragedy of her childhood—the loss of her own family with the death of her mother. Is Chloe trying to vicariously rebuild the family she lost? Does her work make her happy or fulfilled? What kind of qualities does a person need to be successful in a job like Chloe's? Do you think you could do what she does?
On p. 139, Chloe asks Paul if he believes in soulmates and he answers, "I believe in being the best partner you can be. The rest follows." Do you consider any of the couples in this book to be soulmates? How do you define "soulmate"? Do you think Paul and Chloe were the best partners they could be? How did Chloe's job affect her romantic life? List the various ways each of the novel's couples help and hurt one another.
There is a budding relationship between Paul and Chloe during the middle of the novel. What is each looking for in the other? What, if anything, do their interactions belie about their relationships with their partners?
Jason is often the novel's most foreboding character, but, as Chloe points out, he cried into her neck when his son as born. What is your opinion of Jason? What drives his behavior? How much of his behavior is driven by his own nature and desires, and how much by the circumstances of his life that are beyond his control? Are any of his actions understandable? Do you see redemption for him and Penny?
Chosen is a layered portrait of domestic adoption and ultimately a cultural reflection of contemporary America. How do race, class, and gender intersect in the adoptions in this novel?
Why do you think the author chooses to have the resolution of Wyeth's abduction narrated by three different "Anonymous" voices? Did you read them as the same person? Who do you think Anonymous is?
The novel begins in Portland, Oregon, and ends in Hawaii. Why do you think the novel ends there? Did the ending leave you with any unanswered questions? Do you think all the families are finally happy?
Advertisement