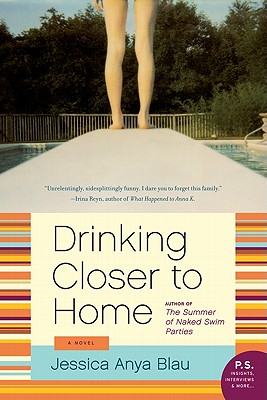 Drinking Closer to Home
A Novel
Paperback

* Individual store prices may vary.
Description
"An honest, haunting portrayal of a beguiling, yet maddening family, who together come of age amidst the shifting morals of a country on the cusp of tremendous cultural change. With humor, compassion and a keen insight into the human psyche, Drinking Closer to Home proves that despite the best of intentions, where we come from and where we end up, are even closer than we could ever imagine." —Robin Antalek, author of The Summer We Fell Apart
"So raw and funny I wanted to read parts aloud to strangers." —Dylan Landis, author of Normal People Don't Live Like This
From Jessica Anya Blau, critically-acclaimed author of The Summer of Naked Swim Parties and Mary Jane, a coming-of-age novel about growing up and learning to love your insane family. Drinking Closer to Home is a poignant and funny exploration of one family's over-the-top eccentricities—a book Ron Tanner calls "heartfelt and hilarious."
Praise For Drinking Closer to Home: A Novel…
"At the end of the day, the Stein family is dysfunctional, foul-mouthed, appalling, loving and ridiculously endearing, thanks to Blau's hilarious rendition of their group dynamic. Soundtrack? Hotel California. Woody Allen directs."
— Baltimore Sun

"The domestic relationships . . . are brilliantly rendered, a contemporary California version of Philip Roth."
— Austin Chronicle

"An entertaining romp through one family's history."
— Boston Globe

"A light-hearted, enthralling read that enables us to laugh at our own less-than-perfect families."
— Bust Magazine

"Blau writes funny, often heartbreaking, and always relatable anecdotes ... [Her] lifelike characters are such a joy to get to know that one feels sorry to leave them behind."
— Publishers Weekly

"From painful humor to poignant scene-setting, [Blau] takes no prisoners in her candid look at an unconventional clan."
— Booklist

"Jessica Blau's second novel is not only a wise and pitch-perfect depiction of family dynamics but also happens to be unrelentingly, side-splittingly funny. I dare you to forget this family."
— Irina Reyn, author of What Happened to Anna K.

"If you think you've read enough novels about mixed up families already, go ahead and read one more. Jessica Anya Blau's DRINKING CLOSER TO HOME is a phantasmagoric, hilarious carnival ride."
— Madison Smartt Bell

"Jessica Blau's DRINKING CLOSER TO HOME is heartfelt and hilarious as it explores every nook and cranny of this wonderful (and wild) family. If you want to know why we love our parents and siblings even as they drive us to drink and distraction, you must read this book."
— Ron Tanner, author of Kiss Me, Stranger

"The sharpness of Jessica Blau's voice and wit never ceases to amaze me. From the first page this surprising novel takes a classic tale--adult children going home again--and turns it on its head. An absorbing, heart-wrenching read."
— Katie Crouch, author of Men and Dogs

"A very funny -- but also deeply humane -- novel . . . Parental love and booze and drugs and all the complications of becoming an adult: This is a smart book -- a book that makes you cringe and laugh out loud."
— Pauls Toutonghi, author of Red Weather

"If you took Jonathan Franzen, soaked him in Southern California culture, sprinkled him with biting insight and twisted humor, you would get a book that tasted something like DRINKING CLOSER TO HOME."
— Katie Arnoldi, author of Point Dume

"Jessica Anya Blau has created an unforgettably unique family . . . and done them a great service by placing them in a compelling story that is alternately funny and sad as hell. I don't think I'd last twelve days in this family, but I could read about them forever."
— Kevin Wilson, author of Tunneling to the Center of the Earth

"DRINKING CLOSER TO HOME is as raw and heartbreaking as it is tender. Jessica Anya Blau has written an honest, haunting portrayal of a beguiling yet maddening family, who together come of age amidst the shifting morals of a country on the cusp of tremendous cultural change."
— Robin Antalek, author of The Summer We Fell Apart

"[A] tour de force of a second novel . . . deliciously funny, endearingly naughty, resolutely hopeful, and highly enjoyable. Blau is a masterful storyteller."
— Greg Olear, author of Totally Killer and the forthcoming Fathermucker

"[Blau has] lavished such attention on these people that I found it impossible not to care about them--and equally impossible to forget them."
— Steve Yarbrough, author of Safe from the Neighbors

"Hilariously irreverent . . . . This unconventional joy ride of a novel is also an unexpectedly powerful and multi-layered exploration of unbreakable family bonds."
— Gina Frangello, author of Slut Lullabies

"Jessica Anya Blau's emotional turf is kinship, from its betrayals to its bonds—and in DRINKING CLOSER TO HOME she covers this territory with an honesty so raw and funny I wanted to read parts aloud to strangers."
— Dylan Landis, author of Normal People Don't Live Like This

"Chekhov knew that laughter and tears are only a breath apart. So does Jessica Anya Blau. The family in her marvelous DRINKING CLOSER TO HOME . . . make[s] beautiful, hilarious music through time and all the spaces in the heart."
— James Magruder, author of Sugarless

"DRINKING CLOSER TO HOME is a gloriously rich portrait of three adult children who discover that the tensions and hurts they still have between them are inextricably tied to their laughter and their love."
— Susan Henderson, author of Up From the Blue

"[H]ilarious and heartbreaking....[A] testament to the impossibility of ever truly 'leaving home,' and the great triumph of this book is in Blau's skillful illumination of how that's both a blessing and a curse....This novel will stay with you for a very long time."
— Skip Horack, author of The Southern Cross and The Eden Hunter

"As perfectly pitched as it is comically painful, DRINKING CLOSER TO HOME echoes a profound Tolstoyan truth about family. Many novelists have a sense for place, the gifted ones deliver life with such fidelity that the truth hits very close to home indeed."
— Marisol, author of The Lady, The Chef, and The Courtesan

"I have never encountered such exciting, eccentric, and lovably flawed characters as those Jessica Anya Blau creates in DRINKING CLOSER TO HOME."
— Allison Amend, author of Stations West
Harper Perennial, 9780061984020, 368pp.
Publication Date: January 18, 2011
About the Author
Jessica Anya Blau was born in Boston and raised in Southern California. Her novels have been featured on The Today Show, CNN and NPR, and in Cosmo, Vanity Fair, Bust, Time Out, Oprah Summer Reads and other national publications. Jessica's short stories and essays have been published in numerous magazines, journals and anthologies. Jessica co-wrote the script for Love on the Run starring Frances Fisher and Steve Howey. She sometimes works as a ghost writer and has taught writing at Johns Hopkins University, Goucher College and The Fashion Institute of Technology. Jessica lives in New York. 
In Drinking Closer to Home there are many ways in which the characters' childhood relationships with one another continue on into adulthood. Where are the moments in which the characters act distinctly different as adults than they did as children? What does this say about their adult relationships? What does this say about each of them as an adult?
What are the different parent-child dynamics in this novel and how do those dynamics affect how the family functions as a whole? Do the early parent-child dynamics influence how the grown children interact with the parents? Do those early dynamics influence Louise and Buzzy as they interact with Anna, Portia and Emery?
Women played a very different role in society and in family life in the 1970s than they do today. What were some of the implications of a woman quitting her housewife duties in the early 1970s? What might the implications be now?
How does the novel address the psychology of children who are neglected? How do young Portia, Anna and Emery cope with their odd sense of freedom? How do they understand the past when looking back?
Anna longs for cleanliness and is repulsed by the filthy state of her childhood home. Portia does not seem to mind. How does the state of their home reflect the state of the family? Do our attitudes toward cleanliness (physical, mental, or spiritual) reveal things about ourselves?
All of the characters in Drinking Closer To Home have vastly different understandings of adultery; of its significance and how it affects the people involved. What are these different understandings? How do they conflict with one another?
Anna, Portia and Emery are adults, but to Louise and Buzzy they are considered "the children." What are the difficulties and intricacies associated with the characters' experience of being adults and children at the same time?
As children, Anna, Portia and Emery constantly question and even fear their parents' odd behavior. What are the fears and insecurities that they let go of as adults? What are the worries they continue to hold onto?
What does sex mean for the different characters of the novel? What does it offer the characters? What does it take from them? What does it stand for?
How do the main characters of this novel understand love and affection? Where in the novel are their romantic attitudes a direct influence of their parents? Where are their romantic attitudes a direct reaction against their parents? How do these attitudes change over the course of the novel?
In what ways can keeping secrets be a good thing? A bad thing?
What are some ways in which this bizarre family might actually represent a very typical family? How does this family overlap with your family?