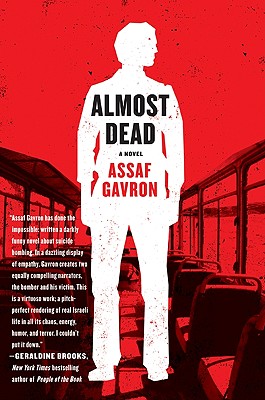 Almost Dead (Paperback)
Harper Perennial, 9780061984044, 328pp.
Publication Date: April 13, 2010
Description
" An] original and powerful writer.... His clear and honest writing blasts right through the cliches and the politically correct surface to touch the chaotic and ambiguous core of the Israeli identity." --Etgar Keret
"In a dazzling display of empathy, Gavron creates two equally compelling narrators, the bomber and his victim. This is a virtuoso work; a pitch-perfect rendering of real Israeli life in all its chaos, energy, humor and terror. I couldn't put it down." -- Geraldine Brooks
Politically incorrect, provocative, and steeped in wit and irony, Almost Dead is a fast-paced tragicomic novel about the perfectly ordinary madness in today's Middle East.
Praise For Almost Dead…
"Assaf Gavron has done the impossible: written a darkly funny novel about suicide bombing. . . . This is a virtuoso work; a pitch-perfect rendering of real Israeli life in all its chaos, energy, humor and terror. I couldn't put it down."
-Geraldine Brooks
Advertisement