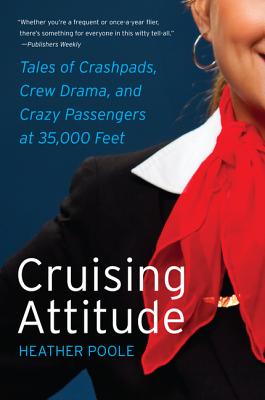 Cruising Attitude (Paperback)
Tales of Crashpads, Crew Drama, and Crazy Passengers at 35,000 Feet
William Morrow Paperbacks, 9780061986468, 272pp.
Publication Date: March 6, 2012
* Individual store prices may vary.
Description
Real-life flight attendant Heather Poole has written a charming and funny insider's account of life and work in the not-always-friendly skies. Cruising Attitude is a Coffee, Tea, or Me? for the 21st century, as the author parlays her fifteen years of flight experience into a delightful account of crazy airline passengers and crew drama, of overcrowded crashpads in "Crew Gardens" Queens and finding love at 35,000 feet. The popular author of "Galley Gossip," a weekly column for AOL's award-winning travel website Gadling.com, Poole not only shares great stories, but also explains the ins and outs of flying, as seen from the flight attendant's jump seat.

About the Author
Heather Poole has been published in The Best Women's Travel Writing 2010. Her regular online column, "Galley Gossip: Confessions from the Jumpseat with Heather Poole," has received more than two million views and is featured on AOL's award-winning travel website, Gadling.com.
Praise For Cruising Attitude: Tales of Crashpads, Crew Drama, and Crazy Passengers at 35,000 Feet…
"Whether you're a frequent or once-a-year flier, there's something for everyone in this witty tell-all."
— Publishers Weekly

"[An] insider's perspective on the friendly skies . . . [an] entertaining, gonzo account."
— Booklist

"A veteran flight attendant's hilarious take on what really happens behind the scenes at 35,000 feet."
— People

"Fun airplane reading."
— Washington Post

"Poole knows what her readers want[:] juicy tidbits about celebrities (she delivers, with no names but sometimes enough description that you can figure it out), to know if flight attendants ever date passengers (yes) and the dirt on whether pilots are as skeezy as they sometimes seem (yes and no)."
— Denver Post

"Heather Poole is the fly-and-tell queen of the skies."
— Los Angeles Times

"A charming and funny insider's account of life and work in the not-always-friendly skies."
— Huffington Post