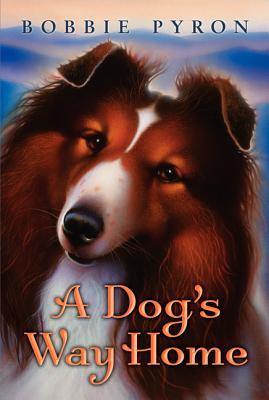 A Dog's Way Home (Paperback)
Katherine Tegen Books, 9780061986727, 336pp.
Publication Date: April 24, 2012
* Individual store prices may vary.
Description
Set in the Blue Ridge Mountains, A Dog's Way Home is an unforgettable tale of the many miles, months, and mountains that divide two loyal friends—but that can't possibly keep them apart.
Abby knows that Tam, her Shetland sheepdog, is her north star, and she's pretty certain she's his, too. But when an accident separates Abby and Tam, it feels as though all the stars have fallen out of the sky and nothing will ever be right again. As the days between them turn to weeks, then months, dangers and changes fill up Abby's and Tam's lives. Will they ever find their way home to each other?
Daddy says, "Most folks got a north star in their life—something that gives their life extra meaning. Mine is music."
Without even thinking, I say, "Mine is Tam."
About the Author
Bobbie Pyron calls A Dog's Way Home "My own personal love letter to all the great, classic dog books I've read and loved—and to all the dogs I've loved, too." As a part-time youth librarian, Bobbie enjoys sharing dog stories, and books of all kinds, with young readers. When she's not writing, working as a librarian, or volunteering with animal rescue organizations, Bobbie and her dogs Boo, Teddy, and Sherlock can often be found walking in the woods of Park City, Utah, where she lives with her husband, Todd.
Praise For A Dog's Way Home…
"In the tradition of The Incredible Journey and Lassie Come-Home comes a heartwarming, suspenseful tale. An inspiring portrayal of devotion and survival against all odds."
— Publishers Weekly (starred review)

"Fans of the Lassie stories and The Incredible Journey will lose themselves in this harrowing adventure. This is an uplifting tale of devotion, perseverance and love beyond boundaries."
— Kirkus Reviews

"Readers will find it tough not to flip to the final pages to find out how this heartfelt story ends. Hand this to fans of Phyllis Reynolds Naylor's Shiloh and Kathi Appelt's The Underneath and they will not be disappointed."
— Booklist

"Bobbie Pyron gives us a triumphant story about faith and hope and never giving up, especially on the ones you love."
— Kathi Appelt, Newbery Honor author of The Underneath

"A Dog's Way Home is at times hilarious, at times mystical, at times page-turningly suspenseful. The heartbeat of this story—like the strong heartbeat of the Sheltie at its center—will stay with you for a very, very long time."
— Gary D. Schmidt, Newbery Honor and Printz Honor author of Lizzie Bright and the Buckminster Boy and The Wednesday Wars

"Beautifully written, this is an important story that speaks to the special kinship between child and dog. I simply LOVE this book!"
— Patricia MacLachlan, Newbery Medal-winning author of Sarah, Plain and Tall