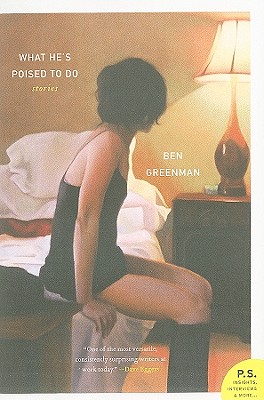 What He's Poised to Do
Stories
Paperback

* Individual store prices may vary.
Description
"Ben Greenman seems incapable of writing anything dry or familiar or expected. He is one of the most versatile, consistently surprising writers at work today." —Dave Eggers
A diverse and moving collection of witty, fabular, haunting stories about love, infidelity, and the vanishing art of letter writing—from the acclaimed novelist and New Yorker editor Ben Greenman. Fans of the works of Keith Gessen, Ben Kunkel, Nathaniel Rich, and John Wray will find much to love in the beautiful, poignant stories of What He's Poised to Do.
Praise For What He's Poised to Do: Stories…
"Greenman offers quiet, serious stories lifted by occasional humor and linked by instances of written correspondence. " — New York Times Book Review
"What a fine and unique writer Ben Greenman is. I love his sentences, his precision. I feel like he's absorbed and digested so much great literature, distilling it all to create his own fantastic universe of stories and ideas." — Jonathan Ames, author of Wake Up, Sir!
"This book is like a strobe light—in short, sharp bursts, Ben Greenman renders the world we know into something startling, hypnotizing, and downright trippy." — Daniel Handler
"Romantic and compulsively readable, What He's Poised to Do will appeal to anyone who's ever been in love, had a broken heart, or been misunderstood." — Amy Sohn, author of Prospect Park West
"Ben Greenman's What He's Poised to Do is a terrific collection—a set of elegant, inventive dispatches that knock around space and time, and the wrenching gaps between people, to chart a world of previously unnamed moments and emotions." — Jess Walter, author of The Financial Lives of the Poets
"Ben Greenman's prose is characterized by an effortless musicality. This collection finds him in peak form, simultaneously heartbreaking and hilarious. But it's the beauty of his language that gets me." — Rhett Miller, lead singer, The Old 97s
"Ben Greenman's masterwork of stories inspired by letters offers fresh insight into the mysteries of intimacy. A seriously brilliant and lyrical piece of modern fiction, with characters so alive and sincere and full of longing, they may climb out of the book and follow you home." — Simon Van Booy, author of the Frank O'Connor Short Story Award-winning Love Begins in Winter
Harper Perennial, 9780061987403, 208pp.
Publication Date: June 15, 2010
About the Author
Ben Greenman is an editor at The New Yorker. He is the author of the story collections What He's Poised to Do; Superbad; and A Circle Is a Balloon and Compass Both: Stories About Human Love, and the novels Superworse and Please Step Back. He lives in Brooklyn with his wife and two children.