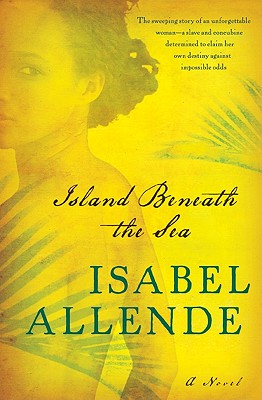 Island Beneath the Sea (Hardcover)
Harper, 9780061988240, 464pp.
Publication Date: April 27, 2010
Description
"Allende is a master storyteller at the peak of her powers."
-- Los Angeles Times
From the sugar plantations of Saint-Domingue to the lavish parlors of New Orleans at the turn of the 19th century, the latest novel from New York Times bestselling author Isabel Allende (Ines of My Soul, The House of the Spirits, Portrait in Sepia) tells the story of a mulatta woman, a slave and concubine, determined to take control of her own destiny.
Praise For Island Beneath the Sea…
"[An] entertaining sweep...The canvas contains no less than the revolutionary history of the world's first black republic...Allende revels in period details...Her cast is equally vibrant..."
-New York Times Book Review

"Exuberant passions, strong heroines and intricate plots...a world as enchanted—and enchanting—as it is brutal and unjust... A page-turning drama."
-San Francisco Chronicle

"Enthralling, blood-chilling, and heart-breaking…Island Beneath the Sea is a historical novel which works brilliantly in conveying the cyclone that was the eighteenth century."
-The Huffington Post

"…with gorgeous place descriptions, a keen eye for history and a predilection for high drama…There are few more charming storytellers in the world than Isabel Allende."
-NPR.orgNPR.org

"Timely and absorbing…filled with adventure, vivid characters, and richly detailed descriptions of life in the Caribbean."
-Library Journal

"A lush epic of racism and rebellion which begins in Saint-Domingue (today's Haiti)…In a culture of violence, Tété proves that ingenuity can be as heroic as love."
-Cathleen Medwick, More magazine

"Epic scope and sweep…[Allende's] characters, linked by blood, love triangles and even incest, have a depth and complexity that…imbues the proceedings with a lushness bordering on magic realism."
-Associated Press

"Two remarkable women whose destinies are entwined face the chaos of this time [eighteenth century Saint-Domingue]…Uncannily relevant."
-Corrie Pikul, Elle

"A remarkable feat of prescience…Island Beneath the Sea is rich in drama, setting, themes, characters, dialogue and symbolism…an intriguing and wonderfully woven story."
-San Antonio Express-News

An entrancing and astute storyteller…In a many-faceted plot, Allende animates irresistible characters authentic in their emotional turmoil and pragmatic adaptability…while masterfully dramatizing the psychic wounds of slavery."
-Donna Seaman, Booklist (starred review)
Advertisement