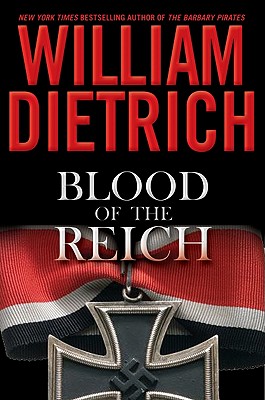 Blood of the Reich (Hardcover)
A Novel
Harper, 9780061989186, 432pp.
Publication Date: June 28, 2011
Other Editions of This Title:
Digital Audiobook (6/27/2011)
Mass Market (12/27/2011)
Paperback, Large Print (6/28/2011)
* Individual store prices may vary.
Description
"WilliamDietrich...should be read by anyone who loves adventure at its grandest!"—James Rollins, author of
Alter of Eden
Atthe height of WWII, a quartet of daring American adventurers pits theircunning against a cadre of Nazi S.S. agents seeking to acquire a powerfulweapon for the Fuhrer's arsenal; today, as the Nazi specter begins to rear itshead once again, the descendants of those long-ago adventurers must unlock thesecrets of their forebears' mission in order to save the world from Hitler'sresurgent Reich. Now, modern science and ancient Tibetan mythology surround adaring zoologist and a beautiful aviatrix who are all that stand between theNazis and world domination in New YorkTimes bestselling author William Dietrich's Blood of the Reich, a knockout stand-alone novel perfect for fansof Ken Follett, Frederick Forsyth, and Thor Brad.
About the Author
William Dietrich is the author of fourteen novels, including six previous Ethan Gage titles—Napoleon's Pyramids, The Rosetta Key, The Dakota Cipher, The Barbary Pirates, The Emerald Storm, and The Barbed Crown. Dietrich is also a Pulitzer Prize-winning journalist, historian, and naturalist. A winner of the PNBA Award for Nonfiction, he lives in Washington State.
Praise For Blood of the Reich: A Novel…
"Dietrich's background as a naturalist and historian allow him to successfully create outlandish plots against authentic, real world settings...[Blood of the Reich] sets its sights high and never fails to deliver."
— New York Journal of Books

"[A] diverting thriller from Dietrich. Plenty of chases, deadly confrontations, and startling revelations keep the pages turning."
— Publishers Weekly

"Dietrich's superior stylistics keep the reader on track with the back-and-forth plots in this engrossing action/adventure novel that crosses the decades and circles the globe. If you're partial to the novels of James Rollins and/or Boyd Morrison, then you'll love this one."
— Yahoo! Shine

"William Dietrich has a knack for working interesting historic episodes into a thrilling story…The action is nonstop, and the locations are fascinating…an absorbing read."
— Skagit Daily Herald

"Dietrich has created a wonderful web of intrigue, using history, vibrantly depicted settings, and great character development that leaves the reader unsure of whom to trust until the very end. Fans of Raiders of the Lost Ark will definitely add this to their holds list."
— Library Journal (starred review)

"Told in alternating chapters-past and present-the story is at once a fast-paced historical adventure and a gripping modern-day thriller. Highly recommended to anyone who enjoys a ripping yarn."
— Booklist

"Blood of the Reich showcases [Dietrich's] best skills, marrying riveting historical set pieces to a modern, taut thriller. Evocative and deadly, bloody and harrowing, this book left me breathless and churning through the last pages until its jaw-dropping climax. Not to be missed."
— James Rollins, author of The Devil Colony

"Dietrich has created a wonderful web of intrigue, using history, vibrantly depicted settings, and great character development that leaves the reader unsure of whom to trust until the very end. Fans of Raiders of the Lost Ark will definitely add this to their holds list."
— Romantic Times Book Review

"In BLOOD OF THE REICH, Pulitzer Prize-winning journalist William Dietrich has created a fascinating, fast-paced thriller rich in historic detail and modern technology, with heavy doses of suspense, a dash of romance and a cast of memorable characters worth rooting for."
— Bookreporter.com

"[Dietrich's] compulsively readable Blood of the Reich takes off from a real (and really bizarre) event—a Nazi expedition to Tibet that hoped to discover the Aryan race's origins."
— Seattle Times

"True to form, many of the facts Dietrich peppers in this gripping read relate to real-life events. This attention to detail [is] part of what makes what the writer has to say all the more compelling."
— Cascadia Weekly

"Dietrich takes the reader on a roller coaster ride. The history and plotting are excellent and all the elements of a fine thriller are present. Fans of this genre of novel will love this fast paced book."
— Mystery One

"Blood of the Reich is something new for William Dietrich. A foray into the modern world of the international thriller—loaded with secrets, conspiracies, action, adventure—but with all of the rich scope and history we've come to expect from a Dietrich book. Top-notch entertainment."
— Steve Berry, author of The Jefferson Key

"It's quite a ride, filled with surprises, and not to be missed. As long as you can suspend a little disbelief, you'll revel in Blood of the Reich."
— Bookloons.com
or
Not Currently Available for Direct Purchase