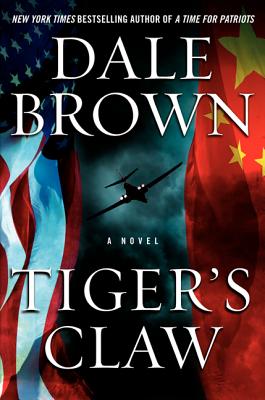 Tiger's Claw (Hardcover)
A Novel (Brad McLanahan #1)
William Morrow, 9780061990014, 432pp.
Publication Date: September 4, 2012
Other Editions of This Title:
Paperback, Large Print (9/4/2012)
Compact Disc (9/1/2012)
* Individual store prices may vary.
Description
Former Air Force captain and New York Times bestselling author Dale Brown is an acknowledged master when it comes to bringing military action to breathtaking life and he has received glowing accolades since his debut publication, Flight of the Old Dog.
Tiger's Claw proves once again that every rave has been well deserved. Set in the near future, Tiger's Claw imagines a scenario in which tensions escalate between an economically powerful China and a United States weakened by a massive economic downfall, bringing the two superpowers to the brink of total destruction. Brown's popular protagonist, retired Air Force lieutenant-general Patrick McLanahan (of A Time for Patriots, Rogue Forces, and other Brown bestsellers), is back with his son Brad McLanahan and they're preparing for the impending apocalyptic clash of men and military technology.
The incomparable Dale Brown scores again with a frighteningly possible story of war and global politics that's ideal for fans of Vince Flynn and Brad Thor.
About the Author
Former U.S. Air Force captain Dale Brown is the superstar author of 26 best-selling action-adventure "techno-thriller" novels: FLIGHT OF THE OLD DOG (1987), SILVER TOWER (1988), DAY OF THE CHEETAH (1989), HAMMERHEADS (1990), SKY MASTERS (1991), NIGHT OF THE HAWK (1992), CHAINS OF COMMAND (1993), STORMING HEAVEN (1994), SHADOWS OF STEEL (1996), FATAL TERRAIN (1997), THE TIN MAN (1998), BATTLE BORN, (1999), WARRIOR CLASS (2001), WINGS OF FIRE (2002), AIR BATTLE FORCE (2003), PLAN OF ATTACK (2004), ACT OF WAR (2005), EDGE OF BATTLE (2006), STRIKE FORCE (2007), SHADOW COMMAND (2008), ROGUE FORCES (2009), EXECUTIVE INTENT (2010), A TIME FOR PATRIOTS (2011), TIGER'S CLAW (2012), STARFIRE (2014), and IRON WOLF (2015). He is also the co-author of the best-selling DREAMLAND techno-thriller series and writer and the PUPPET MASTER series, and is a technical consultant of the Act of War PC real-time strategy game published by Atari Interactive, and the Megafortress PC flight simulator by Three-Sixty Pacific. Dale's novels are published in 11 languages and distributed to over 70 countries. Worldwide sales of his novels, audiobooks, e-books, and computer games exceed 15 million copies.