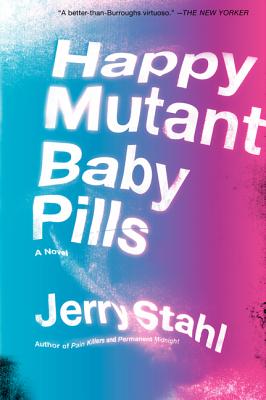 Happy Mutant Baby Pills
A Novel
Paperback

* Individual store prices may vary.
Other Editions of This Title:
Digital Audiobook (11/4/2013)
Description
Lloyd has a particular set of skills. He writes the small print for prescription drugs, marital aids, and incontinence products. The clients present him with a list of possible side effects. His job is "to recite and minimize"—sometimes by just saying them really fast and other times by finding the language that can render them acceptable. The results are ingenious. The methods diabolical.
Lloyd has a habit, too. He cops smack during coffee breaks at his new job writing copy for Christian Swingles, an online dating service for the faithful. He finds a precarious balance between hackwork and heroin until he encounters Nora, a mysterious and troubled young woman, a Sylvia Plath with tattoos and implants, who asks for his help.
Lloyd falls swiftly in love, but Nora bestows her affections at a cost. Before Lloyd clears his head from the fog of romance, he finds himself complicit in Nora's grand scheme to horrify the world and exact revenge on those who poison the populace in order to sell them the cure.
Praise For Happy Mutant Baby Pills: A Novel…
"Jerry Stahl is one of our last defenders against the darkness and Happy Mutant Baby Pills is a deeply funny and devastating warning label for the world we live in, a world that is ultimately, as Stahl brilliantly demonstrates, one giant side effect."
— Sam Lipsyte, author of The Ask

"A dope-fueled hellride to the black heart of New Weird America. Stahl turns his satirical scalpel on Big Pharma, environmental contamination, conspiracy theorists, the Occupy movement, CSI, Christian swingles, and adult babies, eviscerating our silly/scary society in search of its soul. Profoundly disturbing, profoundly funny, and profoundly moving."
— Richard Lange, author of Angel Baby and Dead Boys

"No one can make me laugh while kicking me down the dark tunnel of self like Jerry Stahl."
— Marc Maron

"Jerry Stahl squirts forth another brutal and hilarious masterpiece of literary burlesque. Happy Mutant Baby Pills is so good it hurts." "
— Lydia Lunch

"Every copy of this book should come with a box of Depends® because the reader will be wetting himself laughing. If there is such a thing as truth, Jerry Stahl has it hostage."
— Eric Bogosian

"A better-than-Burroughs virtuoso."
— New Yorker

"Stahl's brilliantly demented riffs deserve to be read--or screamed--aloud."
— Entertainment Weekly

"If you happen to have a deeply twisted sense of what's funny, Stahl will tickle."
— Los Angeles Times

"Jerry Stahl's work fills the gap in American literature left void since the death of the late, great Terry Southern."
— Jim Carroll

"Jerry Stahl is the American hipster bard."
— James Ellroy

"Jerry Stahl should either get the Pulitzer Prize or be shot down in the street like a dog."
— Anthony Bourdain

"Jerry Stahl is truly twisted, truly gifted."
— Legs McNeil

"It is one thing, fine and rare, to write from the heart. It is another thing, finer and rarer, to write from the secret unutterable chambers of the heart. Jerry Stahl, whose words are as cool and deadly striking as a cottonmouth, does just that.
— Nick Tosches

"Jerry Stahl's writing will flip you—flip you for real."
— Benicio Del Toro

"With read-aloud quality prose and characters we can't look away from, Happy Mutant Baby Pills is a deeply disturbing, deeply funny look at a society desperately in need of assistance."
— Booklist
William Morrow, 9780061990502, 272pp.
Publication Date: November 5, 2013
About the Author
Jerry Stahl is the author of the narcotic memoir Permanent Midnight and Perv—a Love Story, both Los Angeles Times bestsellers, as well as the acclaimed novels Pain Killers, Plainclothes Naked, and I, Fatty. He has written extensively for film and television.