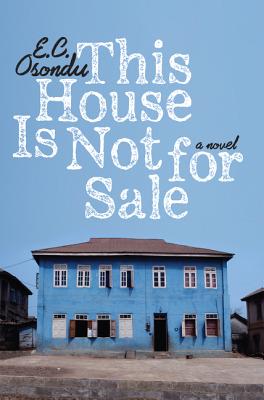 This House Is Not for Sale
A Novel
Hardcover

* Individual store prices may vary.
Other Editions of This Title:
Paperback (2/2/2016)
Description
The award-winning author of Voice of America paints a vivid, fully imagined portrait of an extraordinary African family and the house that holds them together.
A powerful tale of family and community, This House Is Not for Sale brings to life an African neighborhood and one remarkable house, seen through the eyes of a young member of the household. The house lies in a town seemingly lost in time, full of colorful, larger-than-life characters; at the narrative's heart are Grandpa, the family patriarch whose occasional cruelty is balanced by his willingness to open his doors to those in need, and the house itself, which becomes a character in its own right and takes on the scale of legend.
From the decades-long rivalry between owners of two competing convenience stores to the man who convinces his neighbors to give up their earthly possessions to prepare for the end of the world, Osondu's story captures a place beyond the reach of the outside world, full of superstitions and myths that sustain its people.
Osondu's prose has the lightness and magic of fable, but his themes—poverty, disease, the arrival of civilization in an isolated community—are timeless and profound. At once full of joyful energy and quiet heartbreak, This House Is Not for Sale is an utterly original novel from a master storyteller.
Praise For This House Is Not for Sale: A Novel…
"The home in the magisterial This House Is Not For Sale becomes much more than a building. The structure defines and divides a family over generations. Osondu has more to say about life and love than most of the classic novels we adore." — Essence
"Remarkable. . . . Though Osondu tips his hat to tradition, this book is a distinctive and singular achievement, all the more remarkable for being a debut novel." — Jeffery Renard Allen, author of Song of the Shank
"A marvelous chorus of community voices chimes in, passionately commenting on the action. . . . Osondu uses the house as a prism through which to depict the events of the neighborhood, proving that our stories outlive the places we inhabit." — Publishers Weekly (starred review)
"Vivid. . . . Beguiling in their simplicity and resonant in their universal themes, This House is Not for Sale offers a striking appraisal of people's basest ambitions." — Booklist
"Osondu brings his characters to life with love. The dialogue, flavored by its ever-present chorus of unnamed voices, sparkles with humor, playful wickedness, and zest. Osondu gives us a strong and joyful sense of place in this novel. . . . A celebration of a place and its people." — BookBrowse
"The timelessness of this ambitious debut reminds the reader of J. M. Coetzee's Life & Times of Michael K. The characters, sheltered by a house from which they also try to shelter themselves, tell the stories of every one of us." — Yiyun Li, author of The Vagrants
"A very modern, compassionate voice. . . . Osondu is ceaseless in his willingness to examine the human condition in all its glories and frailties." — Kirkus
Harper, 9780061990885, 192pp.
Publication Date: February 3, 2015
About the Author
E. C. Osondu is the author of Voice of America. Born in Nigeria, he received his MFA from Syracuse University and is the winner of the Caine Prize for African Writing and a Pushcart Prize. His fiction has appeared in The Atlantic, n+1, Guernica, and other publications. He teaches at Providence College in Rhode Island.
or
Not Currently Available for Direct Purchase