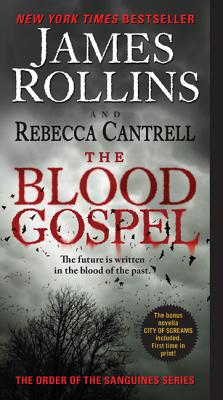 The Blood Gospel (Mass Market)
The Order of the Sanguines Series
Harper, 9780061991059, 736pp.
Publication Date: August 27, 2013
Other Editions of This Title:
Digital Audiobook (1/7/2013)
Hardcover (1/8/2013)
CD-Audio (8/13/2013)
Compact Disc (1/1/2013)
Paperback, Large Print (1/8/2013)
* Individual store prices may vary.
Description
New York Times bestselling authorsJames Rollins and Rebecca Cantrell combinetheir talents in a gothic tale about anancient order and the hunt for a miraculous book known only as . . . The Blood Gospel.
Some books should never be found, never opened—until now.
An earthquake in Masada, Israel, reveals a tomb buriedin the heart of the mountain. A trio of investigators—Sergeant Jordan Stone, a military forensics expert;Father Rhun Korza, a Vatican priest; and Dr. Erin Granger, a brilliant but disillusioned archaeologist—are sent toexplore the macabre discovery, a subterranean templeholding the crucified body of a mummified girl.
But a brutal attack at the site sets the three on the run, thrusting them into a race to recover what was once preserved in the tomb's sarcophagus: a book rumored to have been written by Christ's own hand, a tome that is said to hold the secrets to His divinity. But the enemy who hounds them is a force of ancient evil directed by a leader of impossible ambitions and incalculable cunning.
About the Author
James Rollins is the author of international thrillers that have been translated into more than forty languages. His Sigma series has been lauded as one of the "top crowd pleasers" (New York Times) and one of the "hottest summer reads" (People magazine). In each novel, acclaimed for its originality, Rollins unveils unseen worlds, scientific breakthroughs, and historical secrets—and he does it all at breakneck speed and with stunning insight. He lives in the Sierra Nevada mountains.
New York Times bestselling thriller author Rebecca Cantrell's novels include the award-winning Hannah Vogel mystery series, the critically acclaimed YA novel iDrakula, which was nominated for the APPY award and listed on Booklist's Top 10 Horror Fiction for Youth, and The World Beneath, the first book in an exciting new series and the winner of an International Thriller Writer award. She, her husband, and son currently live in Berlin.