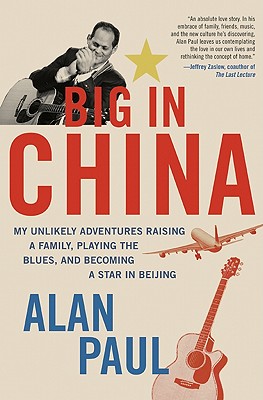 Big in China (Hardcover)
My Unlikely Adventures Raising a Family, Playing the Blues, and Becoming a Star in Beijing
Harper, 9780061993152, 272pp.
Publication Date: March 1, 2011
* Individual store prices may vary.
Description
"What a romp….Alan Paul walked the walk, preaching the blues in China. Anyone who doubts that music is bigger than words needs to read this great tale." —Gregg Allman
 
"An absolute love story. In his embrace of family, friends, music and the new culture he's discovering, Alan Paul leaves us contemplating the love in our own lives, and rethinking the concept of home." —Jeffrey Zaslow, coauthor, with Randy Pausch, of The Last Lecture
 
Alan Paul, award–winning author of the Wall Street Journal's online column "The Expat Life," gives his engaging, inspiring, and unforgettable memoir of blues and new beginnings in Beijing. Paul's three-and-a-half-year journey reinventing himself as an American expat—while raising a family and starting the revolutionary blues band Woodie Alan, voted Beijing Band of the Year in the 2008—is a must-read adventure for anyone who has lived abroad, and for everyone who dreams of rewriting the story of their own future.
About the Author
Alan Paul wrote "The Expat Life" column for WSJ.com from 2005 through 2009, and he was named 2008 Online Columnist of the Year by the National Society of Newspaper Columnists. Paul is a senior writer for Slam and Guitar World magazines, and his writing has appeared in The New Yorker, Entertainment Weekly, People, Sports Illustrated, and many other media outlets. He has contributed to The Rolling Stone Jazz and Blues Guide, The Insider's Guide to Beijing, and several other books. He lives with his family in Maplewood, New Jersey.
Praise For Big in China: My Unlikely Adventures Raising a Family, Playing the Blues, and Becoming a Star in Beijing…
"An absolute love story. In his embrace of family, friends, music and the new culture he's discovering, Alan Paul leaves us contemplating the love in our own lives, and rethinking the concept of home."
— —Jeffrey Zaslow, coauthor, The Last Lecture

"Alan Paul plunges into Chinese life and takes us along for the ride.... He conveys the thrills and challenges of living abroad, the confusions and regrets, and most of all the opportunity to become the person we always hoped to be."
— —Peter Hessler, author of Country Driving and River Town

"What a romp. After writing about music for years, Alan Paul walked the walk, preaching the blues in China. Anyone who doubts that music is bigger than words needs to read this great tale."
— —Gregg Allman, the Allman Brothers Band

"Generations of adventurers have daydreamed of seeing their names up in lights in the world's biggest country. But Alan Paul-musician, writer, and stay-at-home father of three-actually achieved it through sheer will and talent."
— —Evan Osnos, China Correspondent, The New Yorker

This readable, human account of his China experience shows how one can be richly rewarded in a supposedly 'hard posting' when armed with an open, adventurous mind and the Chinese people's 'go-get-it' spirit."
— —Lijia Zhang, author of Socialism Is Great

"Alan Paul's evolution from expat-village 'trailing spouse' to star of the Chinese music scene stands for countless similar developments underway in China. I hope many people read this book -- and consider a similar adventure themselves."
— —James Fallows, author of Postcards from Tomorrow Square

"Reads like an epic adventure, with music at its heart and the unity of people as its goal."
— —Rick Telander, author Heaven Is a Playground

"A charming exploration of an expat's unlikely rise to fame, as well as the lessons learned along the way."
— —Kirkus Reviews

"An inspirational, eloquent travelogue that that that flows like a soul-baring letter to friends as it carries readers along on a personal journey of discovery in a land that is rediscovering itself."
— —James McGregor, author, One Billion Customers

"It's hard to imagine a better American musical ambassador than Alan Paul.... With the help of great local musicians, he bridged cultures with notes. It's an amazing story."
— —Warren Haynes, the Allman Brothers Band