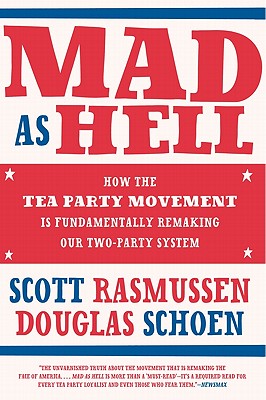 Mad As Hell: How the Tea Party Movement Is Fundamentally Remaking Our Two-Party System (Paperback)
How the Tea Party Movement Is Fundamentally Remaking Our Two-Party System
Broadside Books, 9780061995248, 352pp.
Publication Date: September 1, 2011
* Individual store prices may vary.
or
Not Currently Available for Direct Purchase
Description
Today's raucous revolt against Washington and Wall Street is a classic populist uprising. In Mad as Hell, political pollsters Scott Rasmussen and Doug Schoen discuss how the Tea Party movement is fundamentally remaking our two-party system and what it means for the future of American politics. For political junkies of every stripe from both the left and the right side of the aisle Mad as Hell is mandatory reading.
Praise For Mad As Hell: How the Tea Party Movement Is Fundamentally Remaking Our Two-Party System…
The unvarnished truth about the movement that is re-making the face of America. ... "Mad As Hell" is more than a 'must read'—it's a required read for every tea party loyalist and even those that fear them.
-NewsMax

What makes this new book a must-read ... is the reality that our daily news cycle is in many ways driven by the Tea Party.
-Huffington Post

Useful and balanced book...Readers who think they are in the political class might do well to pay heed.
-Foreign Affairs

Rasmussen and Schoen's book clarifies much about our contemporary politics and identifies important causes of our current political malaise. It is the best available guide to the politics of 2010.
-The Atlantic

Essential to understanding America in 2010.
-The Daily Caller

What [Rasmussen and Schoen] convincingly show is that economic stagnation and the collapse of equality and opportunity have produced an equally catastrophic decline in confidence in every sort of public institution - including political parties, big business, big labor, the media and mainline organized religion.
-Los Angeles Times
Advertisement