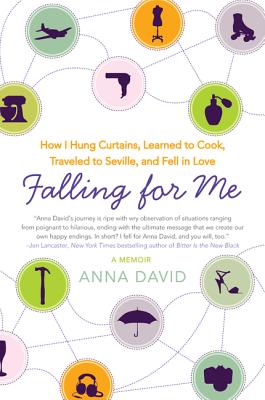 Falling for Me
How I Hung Curtains, Learned to Cook, Traveled to Seville, and Fell in Love
Paperback

* Individual store prices may vary.
Description
"Funny, smart, and compulsively likeable, Anna David is this decade's answer to Carrie Bradshaw. There won't be a single second you won't root for her as she bravely tries to answer the resonating question: how can I be my best self?"
—Allison Winn Scotch, New York Times bestselling author of The Department of Lost and Found
The sex-and-relationship expert on G4's Attack of the Show, author of Party Girl and Bought, and the editor of Reality Matters, Anna David is smart, successful, and single. Falling for Me is Anna's provocative, eye-opening, and inspiring chronicle of the year she changed her life by following the advice of Cosmopolitan Magazine guru Helen Gurley Brown in her classic Sex and the Single Girl. Anna's story of "How I Hung Curtains, Learned to Cook, Traveled to Seville, and Fell in Love"—and her determination to either find "the one" or accept once and for all that it's not in the cards—is touching and transformative, exhilarating and uplifting, and belongs on every bookshelf next to Eat, Pray, Love  and The Happiness Project.

Praise For Falling for Me: How I Hung Curtains, Learned to Cook, Traveled to Seville, and Fell in Love…
"Because every girl can use a best-friend-in-a-book, and this one is a winner: funny, smart, and brutally honest."
— Flavorwire.com

"A thoughtful chronicle with inspiring lessons in personal growth and building a life one loves from the inside out."
— Publishers Weekly

"Anna David's journey is ripe with wry observation of situations ranging from poignant to hilarious, ending with the ultimate message that we create our own happy endings. In short? I fell for Anna David, and you will, too."
— Jen Lancaster, New York Times bestselling author of Bitter Is the New Black

"In this new form of reality lit, Anna David shows it's never too late to come of age and sometimes it takes an unexpected fairy godmother- say Helen Gurley Brown-to get us there. Anna had me falling for her, myself, and this book with every brave and vulnerable page."
— Jennifer Belle, New York Times bestselling author of High Maintenance and The Seven Year Bitch
William Morrow Paperbacks, 9780061996047, 320pp.
Publication Date: October 11, 2011
About the Author
Anna David is the author of the novels Party Girl and Bought, and the editor of the anthology Reality Matters. She has written for the New York Times, the Los Angeles Times, Redbook, Details, and many other publications. She has appeared on national television programs including Today, Hannity, and CNN's Showbiz Tonight.
A precipitous event motivates Anna to embark on her project to follow everything Helen Gurley Brown recommends in Sex and the Single Girl. What is that event and in your opinion, does her reaction make sense?
In the first chapter, Anna wonders whether women have lost some of they had in previous generations. Do you believe that as women have made strides in equality, it's been harder for them to remember their femininity and to relish in some of the nurturing things they once did?
Anna's first Match date is an unmitigated disaster. Do you think she's too hard on the guy? What have you found to be the key to having a great blind date or at least to make the best of it?
When Anna makes a list of her fears, some of the activities on it are surprising. Are you scared of things that seem relatively minor but able to work through others that seem like they should be far more frightening? What are your more surprising fears?
Did the chapter on throwing things out and redecorating motivate you to work on your own place?
Anna's friend says that the women's movement made women feel like they "weren't evolved or smart" if they liked cooking. Do you agree or disagree?
As part of her "fear challenging" list, Anna takes a ceramics class, a French class and a windsurfing class. She doesn't love any of them. Was her attempt to get over her fear unsuccessful? Why or why not?
The life coach Anna visits suggests that she not swear, complain or gossip so as to stop putting "scenarios out in the world that will later come and hunt you down." Does this make sense to you?
To meet men, Anna wears a pin and a French t-shirt, walks her friend's dog, volunteers at a soup kitchen, goes speed dating and even brings a Checkers towel to the beach. What do you think she learns from all of this, if anything?
When she's in Spain, Anna's attitude changes. Do you think that's because she's in a new environment or does it have more to do with all the work she's done on herself?
How does Anna fall for herself? Have you fallen for yourself? Is there anything from her journey you want to try?
or
Not Currently Available for Direct Purchase