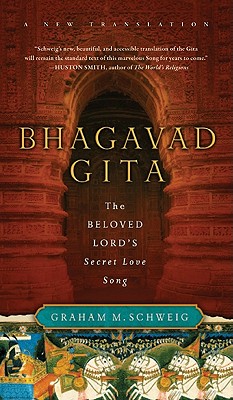 Bhagavad Gita (Paperback)
The Beloved Lord's Secret Love Song
HarperOne, 9780061997303, 368pp.
Publication Date: August 24, 2010
Other Editions of This Title:
Hardcover (4/24/2007)
* Individual store prices may vary.
Description
"[It] will remain the standard text of this marvelous Song for years to come, if indeed it is ever superseded."
—Huston Smith, author of The World's Religions
Graham M. Schweig's translation of the Bhagavad Gita—the "Bible of India"—is an elegant, highly accessible version of one of the most important sacred scriptures in world religion. This beautiful translation of the famous conversation between the Hindu god Krishna and the young prince Arjuna includes a glossary, a pronunciation guide, and expert commentary for greater ease of understanding.
About the Author
Graham M. Schweig is the author and translator of Dance of Divine Love: The Råsa Lîlå of Krishna. After completing graduate work at the University of Chicago and Harvard University, he became associate professor of religious studies at Christopher Newport University and visiting associate professor of Sanskrit at the University of Virginia. Schweig was recently a Visiting Fellow of Hindu studies at Oxford University, and has been accepted as a Visiting Fellow at Cambridge University. He has traveled to India several times where for one year, under a Smithsonian Institution-funded grant, he researched ancient handwritten manuscripts. Since an early age, Schweig has practiced various forms of meditational and devotional yoga.
Praise For Bhagavad Gita: The Beloved Lord's Secret Love Song…
"Graham Schweig's new, beautiful, and accessible translation will remain the standard text of this marvelous Song for years to come."
— Huston Smith, author of The World's Religions

"Crystal clear and eminently readable."
— Ariel Glucklich, Professor of Theology (Hinduism) at Georgetown University

"The Bhagavad Gita is a religious classic; Graham Schweig's felicitous translation deserves to be called a classic in its own right."
— Arvind Sharma, Birks Professor of Comparative Religion at McGill University, author of Our Religions

"Schweig has produced a beautifully readable, accurate and respectful translation that should become the standard text for classroom use."
— John Borelli, Special Assistant to the President for Interreligious Initiatives at Georgetown University, author of Interfaith Dialogue

"Extremely reader friendly, particularly if you have little or no prior exposure to the Gita. "
— Yoga Journal