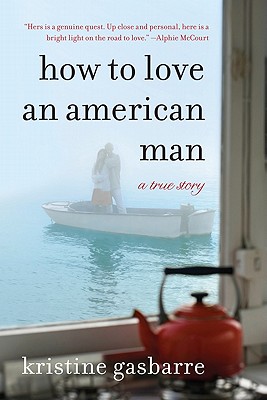 How to Love an American Man: A True Story (Paperback)
A True Story
Harper Paperbacks, 9780061997396, 292pp.
Publication Date: August 16, 2011
Description
A lovely, warm, and poignant true story that reads like compelling fiction, How to Love an American Man is Kristine Gasbarre's unforgettable memoir recalling the valuable lessons on love she learned from her newly widowed grandmother--and how Grandma's advice and memories enabled the author to find and fall for a man with an old-fashioned approach to romance. Fans of Elizabeth Gilbert's Eat, Pray, Love, women readers drawn to tales of powerful female bonding, and anyone looking for a beautiful love story will be moved and, perhaps, profoundly inspired by How to Love an American Man.

Praise For How to Love an American Man: A True Story…
Gasbarre's reflections should resonate with many readers…including those who enjoyed Elizabeth Gilbert's Eat, Pray, Love
-Booklist

"A beautifully written, heartfelt gem. Disguised as a romance, it is actually a story of familial bonds, personal growth and faith."
-Lisa Oz, New York Times bestselling author and radio host

"Gasbarre writes with style, grace and plenty of humor, maintaining a perfect balance. Hers is a genuine quest. Up close and personal, here is a bright light on the road to Love"
-Alphie McCourt

The author's treatment of the central conflict that drives the book-the quintessentially modern female quandary of finding lasting love while staying true to personal ambitions-comes across with an integrity and veracity women readers will undoubtedly appreciate…Chick-lit-alicious."
-Kirkus Reviews

Kristine Gasbarre is a modern-day Jane Austen ... with sparkling wit, this spunky heroine faces modern women's search for love..That's where her grandmother comes in, gently schooling her in the art of courtship and, ultimately, identity. A page-turner that leaves you guessing until the very end."
-Jean Twenge, Ph.D., author of Generation Me and co-author of The Narcissism Epidemic

"How to Love an American Man is fresh, funny, and original. Kristine Gasbarre has written a love story without borders. Dive in and enjoy!"
-Adriana TrigianiAdriana TrigianiAdriana TrigianiAdriana TrigianiAdriana TrigianiAdriana TrigianiAdriana Trigiani
Krissy's life has always been very family oriented, and as she's grown up, different family members have impacted her in numerous ways. In your own experience, who in your family has had the biggest influence on shaping your life and your outlook?
As Krissy falls for the doctor, her grandmother provides heartfelt wisdom and advice on love and the value of a woman. What is the best love advice a parent/grandparent has given you?
How do Krissy and her family cope with the loss of her grandfather? What are some ways you have coped with loss in your own life? Did you find their way of coping admirable or too lighthearted?
Do you think American men can embody the characteristics exemplified by Krissy's Italian grandfather, or are some of these traits culturally specific? Do American men possess different traits that are unique to their culture and society? If so, do you think these traits make them attractive relationship partners?
Which of Grandma Glo's lessons in love did you find the most helpful?
After living on her own for so many years, Krissy moves back in with her parents. How can a young woman hold onto her independence in a situation like this? Based on your perception, how did the author process her "boomerang" move back home?
Krissy has a brief relationship with a younger man. Do you think it is possible for women to find love with men who are in a different stage of life?
How can you take care of an elderly member of your family while still respecting him/her as an independent adult? What did Krissy do to help her grandmother during this transition, and what would you have done in her situation?
Krissy falls for a man who is focused on his career. She also explains how her grandfather put his career first in many instances. Is it possible to fully love a man who loves his career more than his wife? Do you think this was the case for the leading men in this story?
What does Krissy learn about herself during her time at home? How did you relate to her quest for love and happiness?
What kept you turning the pages more: Krissy's journey with her grandmother, or her mysterious relationship with the doctor...or perhaps another aspect of the story that you enjoyed?
Did Krissy's story bring out an appreciation for or curiosity about your grandparents? What questions might you ask them if you had the chance?
Some reviewers have compared How to Love an American Man to Elizabeth Gilbert's Eat, Pray, Love. If you've read both, what parallels do you see?
After the book's ending, what do you believe happened between Krissy and Dr. Chris?
Based on what you've read in How to Love an American Man and what you've seen in other media or from the elders in your life, what are some primary ways you think romantic relationships today differ from our parents' and grandparents' relationships?
Advertisement