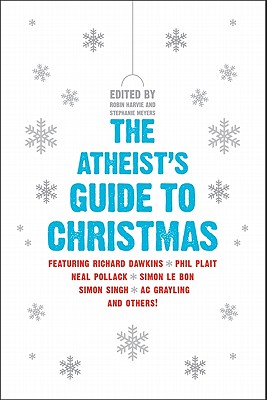 The Atheist's Guide to Christmas
Paperback

* Individual store prices may vary.
Description
So, what do you get an atheist for Christmas? This collection of smart, funny essays, of course—short works by 42 resolutely secular-minded geniuses about how to survive (and even enjoy) the holiday season…without feeling the Christmas Spirit move you. Editors Robin Harvie and Stephanie Meyers have gathered writers, celebrities, comedians, and scientists to deliver essays ranging from the hilarious to the reflective to the charmingly absurd in The Atheist's Guide to Christmas, a perfect gift for the Pastafarian who has everything, the Scrooge who wants nothing, and anyone else interested in the diverse meanings that Christmas can hold.
Praise For The Atheist's Guide to Christmas…
"Stuck on a holiday gift for your favorite atheist? This book will fill him with Christmas-like cheer.... If there's one overarching takeaway...it's that atheists have a sense of humor."
— Penthouse

"[E]ntertaining and enlightening… The Atheist's Guide to Christmas is not only for atheists…nor is it an anti-religious rant or deep philosophical treatise. In essence… a good gift for anyone with a sense of humor."
— Technorati.com
Harper Perennial, 9780061997976, 320pp.
Publication Date: November 2, 2010
About the Author
Robin Harvie is an atheist, publisher and author of Why We Run: The Story of an Obsession. He lives in London.
Stephanie Meyers is a book editor and an avid believer in receiving presents, decorating trees, and making the most of post-holiday sales. She lives in New York City.