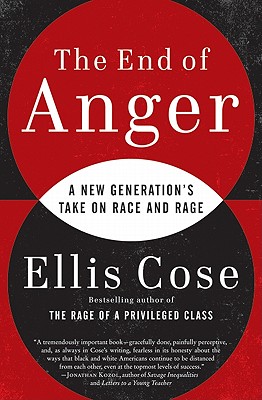 The End of Anger: A New Generation's Take on Race and Rage (Hardcover)
A New Generation's Take on Race and Rage
Ecco, 9780061998553, 320pp.
Publication Date: June 1, 2011
* Individual store prices may vary.
or
Not Currently Available for Direct Purchase
Description
From a venerated and bestselling voice on American life comes a contemporary look at the decline of black rage; the demise of white guilt; and the intergenerational shifts in how blacks and whites view, and interact with, each other
In the heady aftermath of President Obama's election, conventional wisdom suggested that the bitter, angry, and destructive elements of discrimination were ebbing at last and America was becoming a postracial nation. But with this dawning age that promised so much came shifting demographics and a newfound seat of rage in the polarizing Tea Party movement, even as black optimism gained ground, giving rise to questions about assumed truths concerning race in America.
Combining the talents earned from a lifetime in journalism with the insights and thoughtfulness of a close observer of the American experience, renowned author Ellis Cose offers a fresh, original appraisal of our nation at this extraordinary time, tracking the diminishment of black anger and investigating the "generational shifting of the American mind." Weaving material from myriad interviews as well as two large and ambitious surveys that he conducted—one of black Harvard MBAs and the other of graduates of A Better Chance, a program offering elite educational opportunities to thousands of young people of color since 1963—Cose offers an invaluable portrait of contemporary America that attempts to make sense of what a people do when the dream, for some, is finally within reach as one historical era ends and another begins.
In short, The End of Anger is not just about blacks but about America—its past and its hoped-for future—and may well be the most important book dealing with race to be published in recent decades.
Praise For The End of Anger: A New Generation's Take on Race and Rage…
"A fascinating read. . . . The End of Anger is a worthy look at where we are and where we're headed."
-Philadelphia City Paper

"Cose expertly interweaves his own research into the opinions of others, creating an intriguing dialogue about the future of America as class becomes king."
-Ebony

"[A book] that will undoubtedly fuel much debate for years to come."
-Daily News

"Provocative. . . . You never forget the first or second time you read Ellis Cose's The Rage of a Privileged Class. . . . Look for even more robust conversation [with] The End of Anger.
-Essence

"[A] refreshing, readable, and comprehensive look at race in 21st-century America."
-Publishers Weekly

"Ellis Cose defines what racial equality means to a new generation."
-Uptown Magazine

"[Cose] illuminates the contemporary racial landscape while avoiding the illusion of a post-racial era and the romance of a static racial condition. This is engaged social history and critical analysis at its best!"
-Michael Eric Dyson, author of Presidential Race

"The most authoritative accounting I've seen of where our country stands in its unending quest to resolve the racial dilemma on which it was founded. . . . [Cose's] new book is a moving, sometimes startling, appraisal of this pivotal moment in our history."
-Diane McWhorter, Pulitzer Prize-winning author of Carry Me Home

"A masterpiece in illuminating one of the most significant issues in the history of our republic. . . . It is one of those books every American of conscience should read."
-Robert M. Morgenthau, former district attorney of New York County

"The End of Anger may be the defining work on America's new racial dynamics. Deeply researched, artfully reasoned, and beautifully written. . . . Cose deepens our understanding not just of race but of the power of generational transformation."
-Anthony D. Romero, executive director of the American Civil Liberties Union

"Once again Ellis Cose holds up a powerful lens to bring to light the thoughts, dreams, and perspectives of African Americans today. His findings and insights are an important contribution to the national conversation on race, class, and opportunity in America."
-Geoffrey Canada, Educator

"A tremendously important book–gracefully done, painfully perceptive, and, as always in Cose's writing, fearless in its honesty about the ways that black and white Americans continue to be distanced from each other, even at the topmost levels of success."
-Jonathan Kozol, author of Savage Inequalities and Letters to a Young Teacher
Coverage from NPR
Advertisement