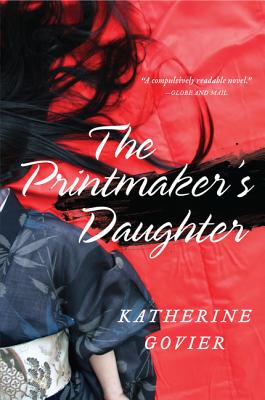 The Printmaker's Daughter (Paperback)
Harper Perennial, 9780062000361, 501pp.
Publication Date: November 22, 2011
Description
A lost voice of old Japan reclaims her rightful place inhistory in this breathtaking work of imagination and scholarship from award-winning and internationally acclaimedauthor Katherine Govier. In the evocative taleof 19th century Tokyo, The Printmaker'sDaughter delivers an enthrallingtale of one of the world's great unknown artists: Oei, the mysterious daughter of master printmaker Hokusai, painter of the Thirty-six Views of Mount Fuji. In a novel that willresonate with readers of Tracy Chevalier's Girlwith a Pearl Earring, Lisa See's SnowFlower and the Secret Fan, and David Mitchell's The Thousand Autumns of Jacob de Zoet, the sights and sensations of an exotic, bygone era form the richly captivatingbackdrop for an intimate, finely wrought story of daughterhood and duty, artand authorship, the immortality of creation and the anonymity of history.
Praise For The Printmaker's Daughter…
"Katherine Govier reimagines the overlooked artist in this historically rich tale, based on a true story and crafted with vivid imagery."
-Marie Claire

"Lavishly researched and brilliant. . . . Govier astonishes throughout in her ability to write epic themes intimately, particularly in the lyrical, absorbing, and intense final hundred pages."
-Publishers Weekly (starred review)

"Govier's expansive historical novel turns the spotlight on Oei, the "ghost brush" attributed to some of her father's famous prints, and a character that drives a compulsively readable novel."
-Globe and Mail (Toronto)

"From the hothouse ferment of art studios, bordellos, and Kabuki theater to the tonic countryside, Govier's spectacularly detailed, eventful, and emotionally stormy novel is populated by vivid characters and charged with searing insights into Japanese history and the diabolically difficult lives of women and artists."
-Booklist (starred review)

"If you read one novel this year by a writer you may be unfamiliar with, read THE PRINTMAKER'S DAUGHTER by Katherine Govier; even if you are familiar with Ms. Govier's novels, this one is unmatched literary fiction."
-New York Journal of Books
Advertisement