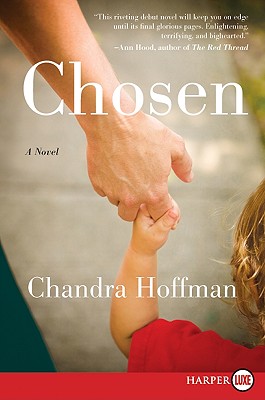 Chosen (Paperback)
HarperLuxe, 9780062002457, 464pp.
Publication Date: August 24, 2010
* Individual store prices may vary.
or
Not Currently Available for Direct Purchase
Description
"Gritty and suspenseful, Chosen draws us into the obstacle-strewn path of domestic adoption."
--Juliette Fay, author of Shelter Me
A young caseworker increasingly entangled in the lives of adoptive and birth parents faces life-altering choices when an extortion attempt goes horribly wrong in Chosen. Written in the spirit of Jodi Picoult and Anna Quindlen, Chosen is an extraordinary debut novel from Chandra Hoffman that deals with the controversial subject of adoption while providing a riveting read that will equally ensnare lovers of suspense, domestic drama, and literary fiction.

Praise For Chosen…
"A page-turner that rings true. . . . This engrossing read will appeal to fans of domestic fiction luminaries Jodi Picoult, Sue Miller, and Chris Bohjalian."
-Library Journal

"A shocking ending."
-USA Today

"[Hoffman's] sparkling debut fully engages the reader with Chloe's altruistic dreams and the predicament in which she unexpectedly finds herself."
-Booklist

"Gripping. . . . A heartfelt story well told."
-Kirkus Reviews

"This riveting debut novel from Chandra Hoffman will keep you on edge until its final glorious pages. Enlightening, terrifying, and big-hearted, Chosen is a terrific book!"
-Ann Hood, author of The Red Thread

"Gritty and suspenseful, Chosen draws us into the obstacle-strewn path of domestic adoption. Hoffman's characters are complex and sympathetic in strikingly different ways, even those who appear at first glance to be irredeemable."
-Juliette Fay, author of Shelter Me

"Chandra Hoffman's Chosen is a finely tuned page-turner. . . . There is no perfect happiness here; instead, there is the unexpected grace of discovering that getting what we want is so often less ideal than wanting what we get. This is an outstanding debut."
-Therese Fowler, author of Reunion and Souvenir

"With sensitivity and keen insight, Chandra Hoffman's absorbing first novel Chosen explores the demanding, uplifting, and emotionally explosive world of adoption. Touching, immediately involving, as well as propulsively readable, Chosen heralds a powerful and distinctive new voice in contemporary women's fiction."
-Liza Gyllenhaal, author of Local Knowledge

"In one of the most self-assured debuts I've read, Chosen takes the charged and important issue of adoption and spins it into a gripping story that will keep readers captivated. Chandra Hoffman, a superb artist and storyteller, has written a beautiful and compelling novel."
-Leonard Chang, author of Crossings

"Unbearable tension. . . . Chandra Hoffman's unflinching and suspense-filled account of the pleasures and perils of domestic adoption . . . is a wrenching portrait."
-Los Angeles Times
Advertisement