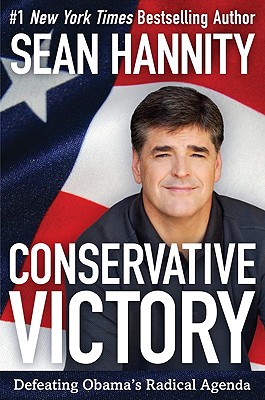 Conservative Victory (Paperback)
Defeating Obama's Radical Agenda
William Morrow Paperbacks, 9780062003058, 256pp.
Publication Date: March 30, 2010
* Individual store prices may vary.
Description
Barack Obama and his radical team of self-professed socialists, fringe activists, and others are trying to remake the American way of life. They have used their new Democratic majority to launch an alarming assault on our capitalist system—while abandoning the war on terror, undermining our national security, and weakening our position in the eyes of our enemies. The "candidate of change" is threatening to change our country irreparably, and for the worse—if we don't act to stop him now.
Sean Hannity has been sounding the alarms about Obama and his agenda from the start. Now—in his first new book in six years—he issues a stirring call to action. Hannity surveys all the major Obama players—from the president's affiliation with radical theology to his advisers' history of Marxist activism, repression of the media, support for leftist dictators, and worse. He exposes their resulting campaign to dismantle the American free-market system and forfeit our national sovereignty. But he draws on the examples of Ronald Reagan and the GOP's Contract with America to show how conservatives can unite behind this country's most cherished principles and act now to get America back on the right track—while we still can.
About the Author
Sean Hannity is the host of radio's The Sean Hannity Show and TV's Hannity, and the author of the New York Times bestsellers Deliver Us from Evil and Let Freedom Ring. His radio show is heard by roughly 13.5 million loyal listeners on 500 stations nationwide.
Praise For Conservative Victory: Defeating Obama's Radical Agenda…
"Hannity brilliantly connects the dots between bad economic policies and their detrimental effects on the family unit . . . His terrific book outlines specific steps that must be taken if America is to be preserved."
— Washington Times

"The bottom line with Sean Hannity is always a tireless optimism and a faith in American 'resilience.'"
— National Review Online