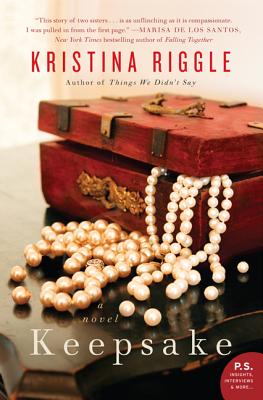 Keepsake
A Novel
Paperback

* Individual store prices may vary.
Description
"This story of two sisters, each broken in her own way, is as unflinching as it is compassionate. I was pulled in from the first page."
—Marisa de los Santos, New York Times bestselling author of Falling Together
For her previous novels (Things We Didn't Say, The Life You've Imagined, Real Life & Liars), author Kristina Riggle has garnered fabulous reviews and established herself as a rapidly rising star of contemporary women's fiction. In Keepsake, she explores that most complicated of relationships, as two sisters raised by a hoarder deal with old hurts and resentments, and the very different paths their lives have taken. As always, Riggle approaches important topics poignantly and honestly—including hoarding and Obsessive Compulsive Disorder (OCD) in her remarkable Keepsake—while writing with real emotional power and compassion about families and their baggage. For readers of Katrina Kittle and Elin Hildenbrand, Kristina Riggle's Keepsake is a treasure.

Praise For Keepsake: A Novel…
"This story of two sisters...is as unflinching as it is compassionate. I was pulled in from the first page, as Trish and Mary reckon with the devastations of loss and the bonds of family, and as they make their hard, brave, often funny journeys toward hope and wholeness."
— Marisa de los Santos, New York Times bestselling author of Falling Together

"An involving portrayal of the obstacles confronting today's families."
— Publishers Weekly

"...this delectable read is both irresistible and fulfilling...hope-filled, honest and remarkably raw tour-de-force. Things We Didn't Say is a beautiful account of modern family that resonates, restores and charms."
— examiner.com

"Backed by Riggle's trademark unflinching honesty and imbued with heart and hope, The Life You've Imagined is a terrific novel about love and loss, letting go and holding on. A book to share with family and friends—I loved it."
— Melissa Senate, author of The Secret of Joy

"An entertaining, challenging story with the potential to change us if we let it."
— Grand Rapids Press

"A seemingly celebratory gathering brings joy, frustration, love and disappointment to a midwestern family in this wonderful debut novel. These are characters we know and care about from our own lives."
— Denise Taylor, manager, Schuler Books and Music

"Riggle crafts a moving and accomplished first novel about a family coming to terms with change. The characters are familiar but not stereotypical, and the quaint setting of Charlevoix, Michigan, a beachfront town, adds to the nostalgic feel."
— Booklist on Real Life & Liars

"Kristina Riggle addresses the difficult turf of the hoarder with compassion and understanding. With its contrasting sisters-one unable to let go of things, the other unable to allow clutter into her life-Keepsake immerses us in the complicated world of family and love."
— Meg Waite Clayton, bestselling author of The Four Ms. Bradwells and The Wednesday Sisters

"Touching and timely"
— Publishers Weekly
William Morrow Paperbacks, 9780062003072, 384pp.
Publication Date: June 26, 2012
About the Author
Kristina Riggle is a published short story writer and coeditor for fiction at the e-zine Literary Mama. She lives in Grand Rapids, Michigan, with her husband, two kids, and dog.
Before reading Keepsake, what did you know about hoarding, and the mental and emotional issues behind it? Do you know someone who hoards?
Have you watched documentary TV about people who hoard? Do you find these shows to be educational, and do you believe they genuinely help the subjects of the programs? What about the viewers at home? Do you think Trish would have recognized herself if she'd watched a show about hoarding?
Talk about Trish and Mary. Do you relate to either of the sisters, or both? If so, how?
What is your relationship with your own "stuff"? Are you like Trish, in that you might keep things you never use or buy unnecessary things in order to make yourself feel better? Or are you like Mary, in that clutter jangles your nerves and dirt upsets you?
Why do you think the sisters responded so differently to their upbringing by a hoarder parent? Why do you think Mary left to live with their father, while Trish stayed with their mother through the end of her adolescence?
In what ways is hoarding similar to a substance addiction?
Do you think Frances had a genuine choice in whether to keep her baby, or did the culture she lived in force her hand?
How different would their lives have been if Frances had kept her baby? Would Frances still have hoarded? Would Mary and Trish even have existed, or would keeping the baby have altered Frances's life so much that she never would have married the man she did?
Both Trish and her mother had husbands leave them because of their hoarding. Do you understand why they left? Could they have done anything to prevent what eventually happened to their wives?
In what ways is Mary's obsession with neatness connected to her discomfort with emotional closeness?
Mary's relationship with Seth started out as friendship. Have you ever had a friend for whom you've grown to have romantic feelings? Do you think that romantic relationships are best begun through friendship, or do you believe in love at first sight?
Discuss Seth and Mary's relationship. Why did Seth not initially think of Mary in a romantic way? Do you believe Mary can break down her emotional walls long enough to connect with Seth?
What do you think the future holds for Ron and Trish?
Will Trish ever let go of the crib? Do you believe it's harmful that she kept it? Have you hung on to something for reasons that you can't fully explain?
After reading Keepsake, do you have a deeper understanding about what makes someone hoard?
or
Not Currently Available for Direct Purchase