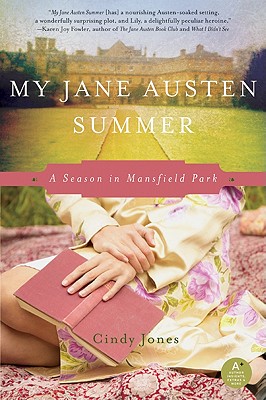 My Jane Austen Summer
A Season in Mansfield Park
Paperback

* Individual store prices may vary.
Description
"When one has read the six great Austen novels…and then reread and then reread the six again, one's only recourse is the company of others equally bereft. Cindy Jones's My Jane Austen Summer fills the gap with a nourishing Austen-soaked setting, a wonderfully surprising plot, and Lily, a delightfully peculiar heroine."
—Karen Joy Fowler, author of The Jane Austen Book Club
Author Cindy Jones has a gift for the millions of readers everywhere who have been enchanted by Pride and Prejudice, Sense and Sensibility, and the other wondrous works of the inimitable Austen—not to mention fans of more contemporary delights such as The Jane Austen Book Club. Jones's My Jane Austen Summer is a delightful, funny, poignant novel in which a contemporary woman—an obsessed Austenphile—learns much about life, love, and herself during one magical summer in England spent re-enacting Jane Austen's Mansfield Park.

Praise For My Jane Austen Summer: A Season in Mansfield Park…
"Austen lovers everywhere will delight in Lily's summer adventure and wish Cindy Jones had cast them in a role, too, so they could play a part in this whimsical literary treat." — Marilyn Brant
"An invitation to get lost in Austen all over again. Janeites will have great fun watching how Cindy Jones cleverly interweaves a very modern romance with the characters, themes, and scenes of Austen's masterpiece" — Lynn Shepherd, author of Murder at Mansfield Park
"A delightful story that takes us for a romp through the English countryside and into the wonderful world of Jane Austen. You can't help but root for Lily Berry, a refreshingly real heroine as she searches for herself in a novel and finds something quite unexpected." — Shilpi Somaya Gowda, Author of Secret Daughter
"An indulgent escape for anybody who has ever wished they could live in an Austen novel...poignant, funny, and as sharply observant of human foibles as the great Jane herself." — Stephanie Barron,,Author of the Jane Austen Mystery Series
"Austen lovers and romantics won't have had this much fun since Bridget Jones's Diary." — dolcedolce.com
"Jones' Austenish charm dances through each chapter, causing you fall in love with Lily right from the first few pages while empathizing with the ever complicated issues of her life." — Marie Claire
"This is an amazing debut for Cindy Jones...My Jane Austen Summer is worth every word on the page; I suggest you pick up a copy because you will love it." — Bookreporter.com
"Whether you are a Jane Austen super fan or a hopeless romantic, Cindy Jones' debut novel will sweep you off your feet." — She Knows
"My Jane Austen Summer" is packed with rich plot, detailed characters and elaborate settings…a literary feast for Austen fans." — Deseret News
William Morrow Paperbacks, 9780062003973, 352pp.
Publication Date: March 29, 2011
About the Author
Cindy Jones was born in Ohio and grew up in small midwestern towns, reading for escape. She is a winner of the Writers' League of Texas Manuscript Contest, and she lives with her family in Dallas.
After being fired for reading on the job, Lily warns that reading can be dangerous to one's mental health. But the literary festival is all about books! Discuss the theme of reading in My Jane Austen Summer. How has reading shaped Lily's hopes and dreams? What role do books play as Lily confronts her demons?
Describe Lily's relationship with her imaginary Jane Austen. How does the relationship change as the story progresses? Would this story work if Lily's imaginary friend had been Charlotte Brontë or Edith Wharton?
Her mother's death is very hard for Lily. How does it affect her relationships with Vera and her imaginary Jane Austen? What is the significance of the necklace and why is Bets so cavalier with it?
Lily wants a relationship so badly that she keeps squeezing herself into undersized romances. Why is a good relationship beyond her reach? When she discovers Martin with Ginny, Lily says, "I could have done earth for him." Why does she make this comment and what does it say about Lily? What are Lily's demons? When does she finally confront them? What advice would you give her?
Discuss the meaning of only connect from Howard's End. According to Omar, it's about connecting one's thoughts with one's deeds. According to Lily, it means relating to people with greater gusto. Omar suggests that Lily join him at his university once the festival ends and spend her time connecting disjointed personalities. But can Lily connect herself? Do any of the characters in this story only connect?
Willis has secrets. He tells Lily he's working on his master's thesis but Lily discovers he's writing something completely different. Willis's other secrets are hurtful to Lily. How should Willis have behaved differently? Does Lily bear responsibility for not reading him more carefully?
Discuss Lily's family secret. How has it shaped her character and how does it impact her behavior at the literary festival? Discuss parallels between Willis's relationship with Lily and her father's relationship with his mistress. Archie and Magda? Maria Bertram and Henry Crawford? The baron in Lovers' Vows? Lily faults her mother for not confiding the truth before she died. Do you think Lily's parents should have told her? How much do children need to know about their parents' private lives?
Omar tries to prevent Lily from pursuing her self-destructive urges on the evening of the follies, but Lily runs away from him. Magda tries to give Lily sisterly advice, which Lily ignores. What makes for a healthy friendship? Is Omar a good friend to Lily? Is Bets a good friend to Gary? Is Lily a good friend to anyone?
Discuss the different approaches to understanding the meaning of Mansfield Park. Is Mansfield Park about slavery and feminism—or the importance of self-knowledge? Where do you stand—with Magda or Nigel? How does the novel Mansfield Park illuminate the story of My Jane Austen Summer?
Compare and contrast Lily Berry and Fanny Price. Where does Fanny get the strength to resist Henry Crawford? Would Lily, as she fears, have fallen prey to Henry Crawford on page 1? Is Fanny Price insipid or heroic? Take a side in the Fanny Wars and defend your position.
Does the play Lovers' Vows, about a woman whose baby daddy is a baron, speak to modern readers? How did it speak to Lily?
Janeites are a very diverse group of fans, evenly distributed along age lines and listing a wide variety of professions. Discuss the contemporary fame of Jane Austen. What is the reason for her great appeal to readers? Will it last, or, as she once said, will future generations be disappointed?
Consider the elements of traditional gothic fiction: castles, foreign settings, attics, death, secrets, overwrought emotion, mystery, tyrannical men, women in distress, grief, and hereditary curses. Which elements are present in My Jane Austen Summer? How do they enrich setting and story?
Have you ever wanted to live in a novel? Lily believed that attending a literary festival might be a way to accomplish her dream. Are there other practical ways to "live in a novel"? What novel would you pick and how would you move in?
Consider the ending of My Jane Austen Summer. What will happen to Lily? Willis? Will some characters repeat the same mistakes for the rest of their lives? Did the ending satisfy you?