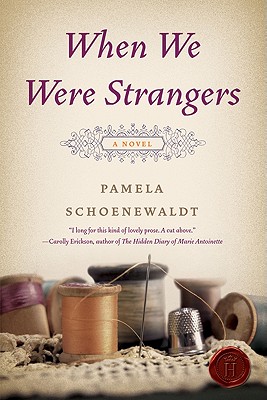 When We Were Strangers
A Novel
Paperback

* Individual store prices may vary.
Description
"The people as real as your own family, and the tale realistic enough to be any American's."
—Nancy E. Turner, author of These is My Words
A moving, powerful, and evocative debut novel,
When We Were Strangers
by Pamela Schoenewaldt heralds the arrival of superb new voice in American fiction. A tale rich in color, character, and vivid historical detail, it chronicles the tumultuous life journey of a young immigrant seamstress, as she travels from her isolated Italian mountain village through the dark  corners of late nineteenth century America. A historical novel that readers of Geraldine Brooks, Nancy Turner, Frances de Pontes Peebles, and Debra Dean will most certainly cherish,
When We Were Strangers
will live in the mind and the heart long after its last page is turned.
William Morrow Paperbacks, 9780062003997, 336pp.
Publication Date: January 25, 2011
About the Author
Pamela Schoenewaldt is the USA Today bestselling author of When We Were Strangers and Swimming in the Moon. Her short stories have appeared in literary magazines in England, France, Italy, and the United States. She taught writing for the University of Maryland, European Division, and the University of Tennessee.
Irma's practical skills and world knowledge seem so limited, even compared to those of her brother Carlo. What abilities and traits help her navigate the difficult passages from Opi to Naples and then west?
Irma's mother devoutly believes that "If you leave Opi, you will die with strangers." How does this assertion shape Irma's experience and how does she ultimately refine it in a way that allows her to move forward in her journey? How does this family assertion compare to others you may have encountered?
Opi, real and remembered, is a powerful force for Irma's self-image and world-view. How does her conception of Opi change through the novel?
Unlike many fictional heroines and perhaps many young women, Irma initially has little interest in a romantic union. Why not and what must change for her to have a satisfying intimate relationship?
At various times in her journey, Irma makes choices which she herself feels are at odds with the Irma Vitale that she "really is." Is she accurate in this assessment?
Irma Vitale is surrounded by immigrants as she makes her passage west. What various ways of relating to "the Old Country" are represented by these other immigrants, her "fellow strangers"?
Sofia gives Irma the option to leave Jake and Daisy's flat. Yet Irma stays. How does this choice reflect her course since first encountering Jake?
Irma's profession evolves from needle worker to dressmaker and finally surgeon. What inner changes parallel this evolution?
Today, as in Irma's time, many people live far from their birthplace for a variety of reasons. What pressures, challenges and supports seem universal about her experience?