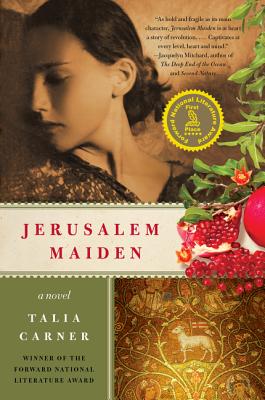 Jerusalem Maiden (Paperback)
A Novel
William Morrow Paperbacks, 9780062004376, 464pp.
Publication Date: May 31, 2011
Other Editions of This Title:
MP3 CD (5/17/2016)
* Individual store prices may vary.
Description
"Talia Carner is a skillful and heartfelt storyteller who takes the reader on journey of the senses, into a world long forgotten."
—Jennifer Lauck, author of Blackbird
"Exquisitely told, with details so vivid you can almost taste the food and hear the voices….A moving and utterly captivating novel that I will be thinking about for a long, long time."
—Tess Gerritsen, author of The Silent Girl
"Talia Carner's story captivates at every level, heart and mind."
—Jacquelyn Mitchard, author of The Deep End of the Ocean
The poignant, colorful, and unforgettable story of a young woman in early 20th-century Jerusalem who must choose between her faith and her passion, Jerusalem Maiden heralds the arrival of a magnificent new literary voice, Talia Carner. In the bestselling vein of The Red Tent, The Kite Runner, and A Thousand Splendid Suns, Jerusalem Maiden brilliantly evokes the sights and sounds of the Middle East during the final days of the Ottoman Empire. Historical fiction and Bible lovers will be captivated by this thrilling tale of a young Jewish woman during a fascinating era, her inner struggle with breaking the Second Commandment, and her ultimate transcendence through self-discovery.

About the Author
Talia Carner is the former publisher of Savvy Woman magazine and a lecturer at international women's economic forums. This is her fifth novel.
Praise For Jerusalem Maiden: A Novel…
"A fascinating look at a little-known culture and time . . . Tuck JERUSALEM MAIDEN in your beach bag."
— Minneapolis Star Tribune

"Talia Carner uses beautiful language, exquisite storytelling, and detailed research to transport the reader into the world of old Jerusalem . . . This is a book to savor and discuss."
— Jewish Book World

"A welcome glimpse into a little-understood world."
— Kirkus Reviews

"Engaging . . . Carner renders Esther's world with great authority and detail, revealing intimate familial rituals within the larger political and socioeconomic context."
— Publishers Weekly

"JERUSALEM MAIDEN is a page-turning and thought-provoking novel. Extraordinary sensory detail vividly conjures another time and place; heroine Esther Kaminsky's poignant struggle transcends time and place. The ultimate revelation here: for many women, if not most, 2011 is no different than 1911, but triumph is nonetheless possible."
— Binnie Kirshenbaum, author of The Scenic Route

"Talia Carner is a skillful and heartfelt storyteller who takes the reader on journey of the senses, into a world long forgotten. Her story of a woman who struggles and seeks the light is universal and inspiring. Read this book and savor."
— Jennifer Lauck, author of the New York Times bestseller Blackbird and the newly released Found: A Memoir

"JERUSALEM MAIDEN won me over from the first moment I began reading it...meticulously researched, and steeped in thorough knowledge, no less than deep understanding, of both this community and of the world of art in Paris at the beginning of the twentieth century... I could not put it down."
— Eva Etzioni-Halevy, author of The Triumph of Deborah, The Song of Hannah and The Garden of Ruth

"JERUSALEM MAIDEN is a novel but the reader feels that she has entered living, lost history. Once engaged, you cannot put this book down . . . [H]eartbreakingly real."
— Phyllis Chesler, author of Women and Madness and Women of the Wall

"[A]n exquisitely explosive journey . . . [JERUSALEM MAIDEN] immerses us in a provocative and astonishingly realized world filled with evil spirits, arranged marriages, prayer, poverty, and the pain of breaking free."
— Michelle Cameron, author of The Fruit of Her Hands

"Exquisitely told...a moving and utterly captivating novel that I will be thinking about for a long, long time."
— Tess Gerritsen, New York Times bestselling author of THE SILENT GIRL

"Esther Kaminsky is a true heroine . . . The truly marvellous thing about JERUSALEM MAIDEN is how deeply Talia Carner is able to evoke Esther's faith and the complexity of the choices she faces. A beautiful and timely novel."
— Margot Livesey, author of The House on Fortune Street and Eva Moves the Furniture

"As bold and fragile as its main character, JERUSALEM MAIDEN is at heart a story of revolution. . . Captivates at every level, heart and mind."
— Jacquelyn Mitchard, author of The Deep End of the Ocean and Second Nature

"Compelling ... vividly examines the grinding poverty and oppressive religious domination the heroine suffers in pre-World War I Mea Shearim, and then compares it with the seductive nonconformity she enjoys in the Parisian art world ten years later."
— Maggie Anton, author of Rashi's Daughters

"[A] fascinating story of how a talented, artistic woman from a conservative faith must balance the responsibilities of her heritage against her passions for love and art ... [JERUSALEM MAIDEN] brings an elusive time and place to life and makes you question the strengths of your own beliefs."
— Vanitha Sankaran, author of Watermark

"A tale spun by a natural storyteller...what is striking is the timelessness and dreamlike quality of her worlds. We are drawn into the saga of Esther kaminsky, the Jerusalem maiden, and stay under her story's spell until the ambiguously happy end."
— Hassadah Magazine
"The Greenwald girl" represents a concept of a young woman who followed her heart—and her non-Jewish lover—and brought a chain of disasters upon her family. Discuss Esther's action in light of this concept. Did she become "A Greenwald girl?"
Girls' innocence and purity are sacred in the ultra-Orthodox world of Jerusalem Maiden. Even today, many women in religious societies—Jewish, Christian, Hindu or Islam—live in even worse oppressive enclaves both in the West and in the Middle East, Asia and Africa. What are the tools used to control them in various places? Do these women share responsibility for their own insulation? Can they change their fate? Should we interfere in their cultural or religious practices?
In Esther's ultra-Orthodox society, adherence to all Commandments and decrees is paramount. Discuss the difference with what you know of today's Jewish Orthodox societies in the USA—their child-rearing practices, education and the status of women.
Esther does not desert her faith. She only rebels against the religious establishment. Have you experienced that gap?
What kind of medical practices were available at the time of the story? Discuss the role of the midwife as a medical practitioner.
Discuss the relationship between Esther and her mother during Esther's adolescence—and her view of that relationship as an adult. What were her mother's expectations, and what were Esther's?
When Aba recites Woman of Valor from the Book of Proverbs, Esther finds the expectations unattainable. What expectations exist today that reflect an unfeasibility similar to that of the Woman of Valor?
Esther felt she never belonged in her world—neither in Me'ah She'arim, nor in Jaffa. Was there anything she should have done differently? Was it "her, or them," as Nathan asks?
Twice in the novel Esther physically emerges from a dark place where she connected with her ancestors—at Rachel's Tomb and at Hezekiah Tunnel. Discuss the physical and spiritual illumination. Have you had similar experiences?
Was Mlle. Thibaux an early feminist, or was she just a "back-street" mistress? Discuss her character and her life's choices. Would she have been a different person had she been married?
Esther's marriage to Nathan was not a bad one. She was comfortable and safe. Yet she was willing to throw it all away. Discuss her character and her dissatisfaction with what would have been many women's dream.
Esther's relationship with guilt fluctuates as she ages, accompanying rebellion, acquiescence, indignation and impetuousness. Throughout her life, how do her desires produce guilt, and how does she reconcile it at each step?
Chaim Soutine is the one true-to-life character in this novel. Read about him and check out his art—and if possible travel the Philadelphia-based Barnes Collection.
Esther's sojourn in Paris is supposed to be a vacation. Discuss the point at which it turns to abandonment of her children. Also, is her settling in Paris a betrayal of the Holy Land?
Even in today's open, free society, many women do not follow their hearts or their dreams to discover "The Primordial Light." Why? Discuss what it takes for a woman to focus and to fully develop her talents.
Relationship between sisters can be complex. Discuss Esther and Hanna's, starting in their childhood and how their different personalities and choices played a role.
In the end, Esther gives up the only two things she loves and which let her be who she is. Discuss her double sacrifice. What kind of a woman will she be in Jaffa and what life will she have back there?