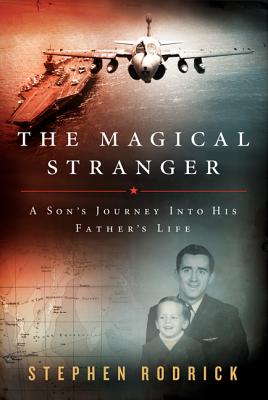 The Magical Stranger
A Son's Journey into His Father's Life
Hardcover

* Individual store prices may vary.
Other Editions of This Title:
Paperback (6/10/2014)
Paperback, Large Print (5/14/2013)
Description
The Magical Stranger is a moving story of love and sacrifice, fathers and sons, heroism and duty, soldiers and the families they leave behind.
On November 28, 1979, squadron commander and Navy pilot Peter Rodrick died when his plane crashed in the Indian Ocean, leaving behind a devastated wife, two daughters, and a 13-year-old son.

In this powerful, beautifully written book, journalist Stephen Rodrick explores the life and death of the man who indelibly shaped his life, even as he remained a mystery. Through adolescence and into adulthood, Stephen Rodrick struggled to fully grasp the reality of his father's death and its permanence.
To better understand his father, Rodrick turned to members of his father's former squadron, the "World-Famous Black Ravens." As he learns about his father, he uncovers the layers of these sailors' lives: their loves, friendships, dreams, disappointments—and the consequences of their choices on those they leave behind. The journey doesn't end until November 28, 2013, when Rodrick's first son is born 34 years to the day after his father's mishap.
A penetrating, thoughtful blend of memoir and reportage, The Magical Stranger is a moving reflection on the meaning of military service and the power of a father's legacy.
Praise For The Magical Stranger: A Son's Journey into His Father's Life…
"In this penetrating blend of memoir and reportage, Rodrick spends nearly two years with his father's former squadron, seeking a better understanding of the man he knew all too briefly." — The New York Times Book Review
"Fascinating . . . . An exemplary piece of modern reportage." — Tom Bissell, Harper's
"The Magical Stranger is one of the realest and best books I've read in the past several years." — Ben Fountain, author of Billy Lynn's Long Halftime Walk
"The Magical Stranger is the true story of a boy chasing a ghost and stumbling into manhood. It is heartbreaking and funny, broken and hopeful, often on the same page." — Judd Apatow
"Stephen Rodrick's The Magical Stranger illuminates the innate ties between fathers and sons in a fresh and fascinating way. . . . Rodrick's firsthand knowledge thoroughly transports the reader into the hearts and minds of U.S. servicemen and their families." — Norman Ollestad, author of Crazy for the Storm
"Stephen Rodrick finds words for what I thought was inexpressible: the private language of a military family that experiences the worst kind of loss and finally creates a path forward. There's no more authentic account of a military family. Required reading for an America that is continually considering the cost of combat." — Alison Buckholtz, author of Standing By
"Stephen Rodrick exhibits courage, Catch-22 comedic flair, and unfailing emotional grasp in telling this powerful and surprising story. Anyone who wants to understand the sacrifices made by military families should read this book." — Lily Burana, author of I Love a Man in Uniform
"Stephen Rodrick's poignant tale blends memoir, reportage, and clean, crisp, unsentimental prose to produce a book that makes you think, even at times makes you laugh, but in the end tears your heart out. A truly fabulous book." — Robert Timberg, author of The Nightingale's Song
"How does Stephen Rodrick manage to produce writing that is raw, heartbreaking, and beautifully-controlled, all at once, and on that most difficult of all topics: fathers and sons? Find out for yourself—it's time very well spent!" — Sean Wilsey, author of Oh the Glory of It All
"A wrenching, fascinating memoir, The Magical Stranger captures the elusive, sometimes crushing unease that haunts the lives of military families. It is written with the pace of a thriller and the emotional density of first-rate fiction." — Blake Bailey, author of Cheever
"This memoir of a son's search to know his father is deeply moving, important and beautifully written. Rodrick has reminded us that the casualties of war remain long after the last mission is won." — Danielle Trussoni, author of Falling Through the Earth
"A powerful debut. . . . Candid and affecting." — Kirkus
"An engaging and immersive look at the dynamics of military units and the dual lives servicemen and women lead. . . all viewed through a crisp journalistic lens that helps Rodrick separate myth from reality." — Publishers Weekly
"Stephen Rodrick is possibly the best prose stylist alive." — Wil S. Hylton, author of Vanished
Harper, 9780062004765, 400pp.
Publication Date: May 14, 2013
About the Author
Stephen Rodrick is a contributing writer at The New York Times Magazine and also a contributing editor at Men's Journal. His writing has been anthologized in The Best American Sports Writing, The Best American Crime Reporting, and The Best American Political Writing. He lives in Los Angeles.
or
Not Currently Available for Direct Purchase