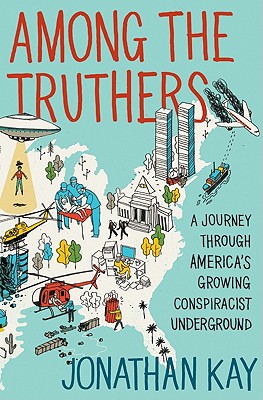 Among the Truthers (Hardcover)
A Journey Through America's Growing Conspiracist Underground
Harper, 9780062004819, 368pp.
Publication Date: May 17, 2011
Other Editions of This Title:
Paperback (6/1/2012)
* Individual store prices may vary.
Description
From 9/11 conspiracy theorists and UFO obsessives tothe cult of Ayn Rand and Birthercrusaders, America is suffering from an explosion in post-rationalistideological movements. In Among the Truthers,journalist Jonathan Kay offers a thoughtful and sobering look at how socialnetworking and Web-based video sharing have engendered a flourishing of new conspiracism. Kay details the sociological profiles of tenbrands of modern conspiracists—the Failed Historian,the Mid-Life Crack-Up, the Damaged Survivor, the Campus Revolutionary, theStoner, the Clinical Case, the Puzzle Solver, the Christian Doomsayer, the CosmicVoyager, and the Egomaniac—in a compelling exploration of America's departurefrom reason and what it means for the very future of rational discourse as thenation steps further into the 21st century.
About the Author
JONATHAN KAY is a managing editor, columnist and blogger at Canada's National Post newspaper. His freelance articles have appeared in such publications as The New Yorker, The New York Times, Harper's, Commentary magazine, Salon, Reader's Digest and Newsweek. He is a visiting fellow at the Foundation for Defense of Democracies in Washington, D.C. His first book, The Volunteer, co-authored with Michael Ross, became a top-ten bestseller in 2007.
Praise For Among the Truthers: A Journey Through America's Growing Conspiracist Underground…
"A well-researched and provocative account of our most baffling conspiracies."
— Kirkus Reviews
or
Not Currently Available for Direct Purchase