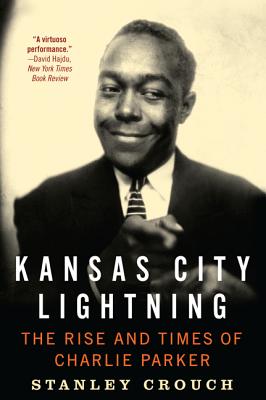 Kansas City Lightning
The Rise and Times of Charlie Parker
Paperback

* Individual store prices may vary.
Other Editions of This Title:
Digital Audiobook (12/31/2013)
Hardcover (8/1/2007)
Hardcover (9/24/2013)
Compact Disc (1/1/2014)
MP3 CD (1/1/2014)
Compact Disc (1/1/2014)
Description
"A tour de force. . . . Crouch has given us a bone-deep understanding of Parker's music and the world that produced it. In his pages, Bird still lives." — Washington Post

A stunning portrait of Charlie Parker, one of the most talented and influential musicians of the twentieth century, from Stanley Crouch, one of the foremost authorities on jazz and culture in America.
Throughout his life, Charlie Parker personified the tortured American artist: a revolutionary performer who used his alto saxophone to create a new music known as bebop even as he wrestled with a drug addiction that would lead to his death at the age of thirty-four.
Drawing on interviews with peers, collaborators, and family members, Stanley Crouch recreates Parker's Depression-era childhood; his early days navigating the Kansas City nightlife, inspired by lions like Lester Young and Count Basie; and on to New York, where he began to transcend the music he had mastered. Crouch reveals an ambitious young man torn between music and drugs, between his domineering mother and his impressionable young wife, whose teenage romance with Charlie lies at the bittersweet heart of this story.
With the wisdom of a jazz scholar, the cultural insights of an acclaimed social critic, and the narrative skill of a literary novelist, Stanley Crouch illuminates this American master as never before.
Praise For Kansas City Lightning: The Rise and Times of Charlie Parker…
"A tour de force that is the print equivalent of a long, bravura jazz performance. . . . Crouch has given us a bone-deep understanding of Parker's music and the world that produced it. In his pages, Bird still lives."
— Washington Post

"It is from Mr. Crouch, a novelist as well as a critic and essayist, that we come to see Charlie Parker in the context of his time and place in America. . . . One comes away from Mr. Crouch's book wanting more."
— Wall Street Journal

"Kansas City Lightning succeeds as few biographies of jazz musicians have. . . This book is a magnificent achievement; I could hardly put it down."
— Henry Louis Gates, Jr.

"This is a memorable book. . . Stanley Crouch takes us deep into places most of us can only imagine—including into the heart of the mysterious split-second alchemy that takes place nightly on the bandstand."
— Geoffrey C. Ward

"A book about a jazz hero written in a heroic style. . . a bebop Beowulf."
— New York Times

"[Crouch] crafts lush scenes and crackling music writing. . . Jazz fans will want to read this book. . . This is a thorough and entertaining account of one of the greatest rises—and the prelude to one of the greatest falls—in jazz history."
— NPR.org

"It takes a lifetime of passionate engagement to write with the intensity and depth of Stanley Crouch. . . The results are insightful, profound, and wholly original. . . This a must read, not just for jazz fans, but for anyone interested in American possibilities."
— Wynton Marsalis

"A jazz biography that ranks with the very best."
— Booklist, starred review

"Crouch. . . is uniquely qualified to guide readers on this tour. . . A story rich in musical history and poignant with dramatic irony."
— Kirkus Reviews

"[A] riveting, long-awaited book . . . Here is Bird making his watershed discoveries before he fired his own lightning bolts."
— Gary Giddins

"A portrait of the young Charlie Parker with a degree of vivid detail never before approached. . . [Kansas City Lightning is] a deft, virtuosic panorama of early jazz. . . This is a mind-opening, and mind-filling, book."
— Tom Piazza

"Stanley Crouch's work is perhaps the most important writing on jazz today. . . This outstanding book is food for the soul for any serious listener of jazz music."
— Madhav Chari, jazz pianist

With the straight-ahead timing and the ethereal blowing of a great jazzman, Crouch delivers a scorching set. . . Crouch brings to life the swinging backdrop against which Parker honed his craft."
— Publishers Weekly

"Kansas City Lightning paints a profound portrait of a great American musician, but also features Crouch operating at the top of his game."
— Eugene Holley, Publishers Weekly

"Stanley Crouch has a store of fresh information for you in his new book about Charlie Parker (1920-55), the genius of American music universally known as Bird, and invaluable insights to offer into the meaning of Parker's achievement. It is imperative that you come into possession of this material…"
— Daily Beast

"Award-winning Crouch takes a deep look at [Parker's] rich life."
— Denver Post

"Social and cultural critic, columnist and MacArthur Genius Crouch offers a mix of impressionist strokes, historical facts and context in his masterful Charlie Parker bio."
— New York Post

"Meticulous and steeped in local lore. . . Feel[s] as urgent as a blast from Parker's saxophone."
— Kansas City Star

"The soul of Stanley Crouch joins the soul of the legendary jazz legend. . . Crouch recreates 'the Bird' with his writer's talents at their peak and the result is magical."
— Huffington Post

"Fans of Mr. Crouch have been waiting so long for him to complete this volume, which is the first installment in a two-part series, that it has taken on a kind of mythic status. It lives up to its aura."
— New York Observer

"He tells Parker's story in vivid detail, with a historian's eye and Crouch's unwavering love of the art. All of these elements coalesce into one engrossing account of an American legend that is a must-read for music fans."
— Flavorwire

"The rich details make Parker's story come alive."
— Jazz History Online

"[Crouch's] great, indeed historic, glory is original research, its interviews with Parker friends from boyhood on about the first half of his life in Kansas City."
— Buffalo News

"'Bird Lives!' his followers proclaimed, as if a man as brilliant as Parker could not possibly be mortal. But Charlie Parker was a man, and Stanley Crouch's enchanting biography returns him to the soil that nourished him before he took flight."
— New York Review of Books

"Crouch. . . meticulously examines the musical mechanisms of Parker's genius and, in prose that veers toward lyrical rapture, conjures the inner life of the improvising artist. . . The book also unfolds, with remarkable personal nuances, a social history of black America in the Jim Crow era."
— The New Yorker

"Stanley Crouch's Kansas City Lightning shoots out of the gate with the gale force of a Charlie Parker solo. . . [An] immersive chronicle, more than 30 years in the making."
— Dallas Morning News

"Stanley Crouch's soulful, poetic and often graphic Kansas City Lightning. . . reads like the jazz version of Batman Begins, with Crouch detailing the raw materials of culture, class, and race that forged Parker's musical identity."
— Los Angeles Magazine

"Will send you searching for recordings. And really, there's no more important litmus test for a music biography. Reading these books makes you want to listen."
— Boston Globe

"A riveting read. . . Crouch, through years of research, has done an exemplary job."
— Jazz Times

"Strikes with enlivening insight, and will leave jazz fans hoping Crouch is as good as his word when he says Volume 2 will be out in the next two years."
— Philadelphia Inquirer

"Crouch writes in a heroic style. . . This 30-years-in-the-making biography of the saxophonist evokes Parker's life and times with visceral power, as well as real finesse."
— San Jose Mercury News

"From bravura sentence to serpentine paragraph, the book is a virtuoso performance of musical-literary mimesis. . . . Kansas City Lightning provides more ideas and better writing in its 365 pages than any other book about Parker."
— David Hajdu, New York Times Book Review

"Crouch's prose is, as usual, perfect-it takes a genius to write about one, perhaps—and Kansas City Lightning is a thoughtful, generous look at one of the country's most important artists."
— NPR, Named One of the Best Books of the Year

"Capture[s] the excitement of a Charlie Parker performance, his incandescent swing, the way he took notes to places they'd never been before. . . Takes us as close as we are likely to get to the early years of a genius-in-waiting."
— Toronto Globe and Mail

"[A] meticulous biography of Parker. . . . In Crouch's passages, he very nearly invents a new language for discussing jazz."
— Popmatters.com

"In Crouch's hands, the phrase that used to be ubiquitous around New York rings true: Bird lives. I hope I'm not the only one out there who is waiting with bated breath for Crouch's next volume to see this Bird take flight."
— The Millions

"An instant classic. . . . With a novelist's sensibility . . . Crouch portrays Parker's world more vividly than anything I have ever read previously. . . . Parker 'lives' in Crouch's telling."
— Jeff Sultanof, the Journal of Jazz Studies
Harper Perennial, 9780062005618, 400pp.
Publication Date: October 21, 2014
About the Author
Stanley Crouch was twice nominated for the National Book Critics Circle Award, for his essay collections Notes of a Hanging Judge and The All-American Skin Game. His other books include Always in Pursuit, The Artificial White Man, and the acclaimed novel Don't the Moon Look Lonesome. He served on and off as the artistic consultant for jazz programming at Lincoln Center, was the president of the Louis Armstrong Educational Foundation, and was a member of the American Academy of Arts and Sciences. He died in 2020 at the age of 74.
or
Not Currently Available for Direct Purchase