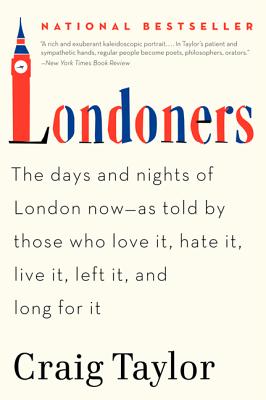 Londoners
The Days and Nights of London Now--As Told by Those Who Love It, Hate It, Live It, Left It, and Long for It
Paperback

* Individual store prices may vary.
Other Editions of This Title:
Hardcover (2/21/2012)
Description
In Londoners, acclaimed journalist Craig Taylor paints readers an epic portrait of today's London that is as rich and lively as the city itself. In the style of Studs Terkel (Working, Hard Times, The Good War) and Dave Isay (Listening Is an Act of Love), Londoners offers up  the stories, the gripes, the memories, and the dreams of those in the great and vibrant British metropolis who "love it, hate it, live it, left it, and long for it," from a West End rickshaw driver to a Soldier of the Guard at Buckingham Palace to a recovering heroin addict seeing Big Ben for the very first time. Published just in time for the 2012 London Olympic Games, Londoners is a glorious literary celebration of one of the world's truly great cities.
Praise For Londoners: The Days and Nights of London Now--As Told by Those Who Love It, Hate It, Live It, Left It, and Long for It…
"A rich and exuberant kaleidoscopic portrait of a great, messy, noisy, daunting, inspiring, maddening, enthralling, constantly shifting Rorschach test of a place. . . . Delightful. . . . In Taylor's patient and sympathetic hands, regular people become poets, philosophers, orators."
— New York Times Book Review

"Remarkable. . . . Essential. . . . Enlightening. . . . Londoners offers an impression of the city's people, a way to understand their motives and fears and the simmering rush. It captures the combination of quiet desperation and boundless optimism required to live [there]."
— San Francisco Chronicle

"Whether or not you know London, whether or not you love it, this book is for you. . . . A polyphonic hymn to the Big Smoke."
— Newsday

"Fascinating. . . . Makes you want to join Taylor in "The London Chase."
— Minneapolis Star Tribune

"Engaging. . . . A treasury of compact vignettes from voices that are rarely heard but come closer to the truth of the city than any travel brochure or official document."
— Pittsburgh Tribune-Review

"Impressive. . . . A scintillating oral history."
— Newark Star Ledger

"From Brixton to Piccadilly Circus, a fascinating oral history of contemporary London."
— Chicago Tribune

"A thrilling portrait of the city. . . . Enchanting. . . . I feel I almost learned more about Londoners from this book than from being a Londoner for more than four decades. . . . Too good to miss."
— Oona King, The Times (London)

"The best book about London in at least a decade. . . . Masterful. . . . A cracking and insightful read [that] will still be widely enjoyed 50 years from now. Treat yourself . . . you really are investing in a classic."
— Londonist.com

"Fans of Studs Terkel's insightful oral histories will be delighted to discover a successor in Taylor. . . . His book brings London to life as it is—ever changing, ever eternal, ever unforgettable. A delight!"
— Library Journal (starred review)

"Immensely enjoyable. . . . Reminded us of Studs Terkel's best books."
— The Observer's Very Short List

"A remarkable new book that celebrates the city's endless diversity. . . . Five stars."
— Time Out London

"Splendid. . . . A remarkable volume [of] countless funny, terrifying, epic stories."
— Guardian (London)

"Highly engaging. . . . Bursts with charm, edification, and life."
— Booklist

"Alternately poignant, uplifting, amusing and sad. . . . A nicely polished oral history—good reading."
— Kirkus Reviews

"An epic portrait in eighty voices that shows the city to be just [as] Dickensian as it has ever been."
— David Nicholls, bestselling author of One Day

"Londoners is a wonderful book—I wanted it to be twice as long."
— Diana Athill, bestselling author of Somewhere Towards the End

"Samuel Johnson said, 'When you are tired of London, you're tired of life.' Craig Taylor is tired of neither London nor life, and this book is a gorgeous, utterly irresistible—even addictive—ode to both."
— David Shields, bestselling author of The Thing About Life Is That One Day You'll Be Dead and Reality Hunger

"Ambitious [and] creative. . . . A book to deepen your relationship with London and make you fall in - or out - of love with it all over again. . . . I can't tell you how much I enjoyed it."
— Lucy Worsley, author of If Walls Could Talk

"Craig Taylor is the real deal: a peerless journalist and a beautiful craftsman. He'd be a household name already if he wasn't so modest. He'll be one anyway in due course."
— David Rakoff, bestselling author of Fraud and Half Empty
Ecco, 9780062005861, 448pp.
Publication Date: February 5, 2013
About the Author
Craig Taylor is the author of Return to Akenfield and One Million Tiny Plays About Britain, both of which have been adapted for the stage. He is also the editor of the literary magazine Five Dials. He lives in London.