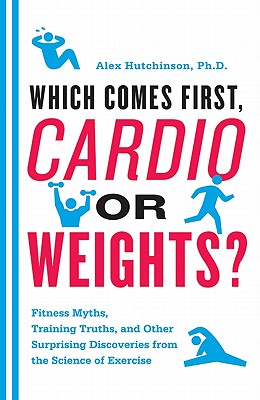 Which Comes First, Cardio or Weights?
Fitness Myths, Training Truths, and Other Surprising Discoveries from the Science of Exercise
Paperback

* Individual store prices may vary.
Description
Award-winning journalist, physicist, and bestselling author of Endure Alex Hutchinson reveals the little-known and often surprising truths that science has uncovered about exercise, ranging from cardio and weights to competition to weight loss.
There's plenty of conventional wisdom on health and fitness—but how much of it is scientifically sound? The truth is: less than you'd think.
In Which Comes First, Cardio or Weights?, physicist and award-winning journalist Alex Hutchinson tackles dozens of commonly held beliefs and looks at just what research science has—and has not—proven to be true:
Should I exercise when I'm sick? 
Do I get the same workout from the elliptical machine that I get from running?
What role does my brain play in fatigue? 
Will running ruin my knees? 
To lose weight, is it better to eat less or exercise more? 
How should I adapt my workout routine as I get older? 
Does it matter what I'm thinking about when I train? 
Will drinking coffee help or hinder my performance? 
Should I have sex the night before a competition?
This myth-busting book covers the full spectrum of exercise science and offers the latest in research from around the globe, as well as helpful diagrams and plenty of practical tips on using proven science to improve fitness, reach weight loss goals, and achieve better competition results.
Praise For Which Comes First, Cardio or Weights?: Fitness Myths, Training Truths, and Other Surprising Discoveries from the Science of Exercise…
"Authoritative and easy to use. . . . This book answers all the big questions."
— Amby Burfoot, Runner's World

"Factual, informative and empowering....a refreshing perspective on fitness and well-being."
— Kirkus Reviews

"Once in a while in the crowded fitness & health genre a book comes out that stands out from rest...[I]f there's only one fitness book you ever buy this should be the one."
— BC Living
William Morrow Paperbacks, 9780062007537, 336pp.
Publication Date: May 24, 2011
About the Author
Alex Hutchinson, Ph.D., is a columnist for Outside magazine and was a long-time columnist for Runner's World. A National Magazine Award winner, he is a regular contributor to The New Yorker online, pens the weekly "Jockology" column in the Toronto Globe and Mail, and writes for the New York Times. FiveThirtyEight recently named him one of their "favorite running science geeks." He was a two-time finalist in the 1,500 meters at the Canadian Olympic Trials, and represented Canada internationally in track, cross-country, road racing, and mountain running competitions. He holds a Ph.D. in physics from the University of Cambridge, and has worked as a researcher for the U.S. National Security Agency. He lives in Toronto, Canada.