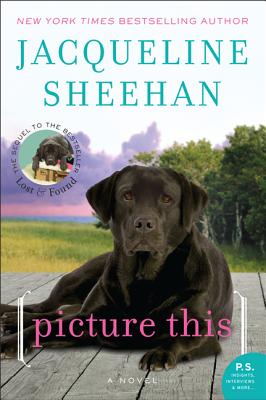 Picture This (Paperback)
A Novel (Peaks Island #2)
William Morrow Paperbacks, 9780062008121, 400pp.
Publication Date: May 22, 2012
* Individual store prices may vary.
Description
Jacqueline Sheehan made serious waves with her much beloved runaway bestseller, Lost and Found ("The best book I've read in a long time" —Susan Elizabeth Phillips). Now she treats readers to a sequel, Picture This—a story of rebirth and personal redemption that is as moving, funny, and heart-soaring as its predecessor. Whip-smart contemporary women's fiction with heart and soul, in Picture This, Rocky Pelligrino is back on Peaks Island off the coast of Maine, along with Cooper the dog, the beautiful black Labrador retriever who gave her a new "leash" on life. But this time a new wrinkle warps the fabric of her world when a young girl shows up on Rocky's doorstep claiming to be the long-lost daughter of her late husband.

About the Author
Jacqueline Sheehan, Ph.D., is a fiction writer and essayist, the bestselling author of the novels Lost & Found and Now & Then. Currently on the faculty of Writers in Progress and Grub Street in Massachusetts, she also offers international workshops on the combination of yoga and writing. She writes travel articles about lesser-known destinations and lives in Massachusetts.
Rocky is caught between wanting to start a new relationship with Hill and grieving the sudden death of her husband. Does it seem unimaginable to fall in love again after the death of a spouse, or would it feel like a second chance?
Rocky is instantly drawn to Natalie in a way that seems to defy her psychological knowledge. What is it that pulls Rocky to the wayward girl?
How does Natalie's background influence her behaviors with Rocky and with others on Peaks Island?
The house that Rocky buys is brimming with personality. The house makes a wish when Rocky first stands in front of it. "Give me one more go at it." How does Rocky's decision at the end of the book answer this wish?
How does Cooper respond to Natalie? If not for Melissa's photo, would anyone be able to detect his hesitation with Natalie? How is the micro detection of the camera like Cooper's perception of the world? What can the camera see that the naked eye cannot?
Tess and her granddaughter Daniel are extremely close. Aside from sharing synesthesia (even though Tess loses hers after surgery), how else are their sensibilities similar?
Natalie picks Daniel, the most tender spirit on the island, to include in her plan of revenge. Are there any other reasons why Natalie picks the child?
Melissa is immediately suspicious of Natalie. How can teenagers see each other so clearly?
In this story, who are the Tzadikum nistarim?