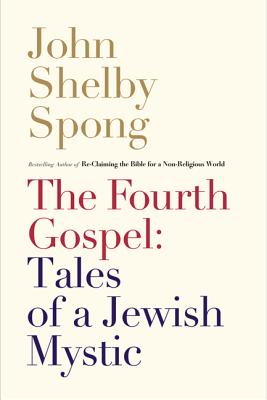 The Fourth Gospel
Tales of a Jewish Mystic
Hardcover

* Individual store prices may vary.
Other Editions of This Title:
Digital Audiobook (3/2/2020)
Compact Disc (3/3/2020)
MP3 CD (3/3/2020)
Description
John Shelby Spong, bestselling author and popular proponent of a modern, scholarly and authentic Christianity, argues that this last gospel to be written was misinterpreted by the framers of the fourth-century creeds to be a literal account of the life of Jesus when in fact it is a literary, interpretive retelling of the events in Jesus' life through the medium of fictional characters, from Nicodemus and Lazarus to the "Beloved Disciple." The Fourth Gospel was designed first to place Jesus into the context of the Jewish scriptures, then to place him into the worship patterns of the synagogue and finally to allow him to be viewed through the lens of a popular form of first-century Jewish mysticism.
The result of this intriguing study is not only to recapture the original message of this gospel, but also to provide us today with a radical new dimension to the claim that in the humanity of Jesus the reality of God has been met and engaged.
Praise For The Fourth Gospel: Tales of a Jewish Mystic…
"We now approach our scriptures with a literalism that is unparalleled in the history of religion. This new and imaginative book by John Shelby Spong will liberate many people from this unnecessary complication of the religious life." — Karen Armstrong, author of A History of God: The 4,000-Year Quest of Judaism, Christianity and Islam
"Spong is writing for a lay audience, and he does so magnificently. His thoughts are bracing, his writing exciting, and his conclusions thought provoking. Those who love reading about religion in general and Christianity in particular may want to go through this volume more than once." — Booklist (starred review)
"No one has done more to articulate a vibrant, post-mythic vision of Christianity than John Shelby Spong. Bishop Spong's masterful interpretation is destined to become a classic." — Michael Dowd, Author of Thank God for Evolution: How the Marriage of Science and Religion Will Transform Your Life and Our World
"Bishop Spong's in-depth struggles with and work on the Gospel of John have resulted in a book that challenges dominant assumptions and interpretations. This book will help anyone who cares to think about faith in open, dynamic, hospitable, and inclusive ways." — Tat-siong Benny Liew, Vice President for Academic Affairs and Dean; Professor of New Testament Pacific School of Religion, Berkeley, CA
"Leave it to Bishop Spong to uncover a message of universal hope that is deeply rooted in Jewish mysticism. Spong's synthesis of Johannine scholarship will lead both clergy and lay readers to a new appreciation of the surprising origins and message of the Fourth Gospel." — David Felten & Jeff Procter-Murphy, authors of Living the Questions: The Wisdom of Progressive Christianity
"Spong is always readable and informative, but this book reads like a cross between a detective story and an adventure saga that is founded on excellent scholarship. I could not put it down." — Fred C. Plumer, President of Progressive Christianity.Org
"Spong invites readers on a stimulating and challenging journey to read the gospel of John afresh and to consider Christianity from a new perspective. This is a must read for every Christian who has tried to make sense of this gospel." — Kah-Jin Jeffrey Kuan, Dean and Professor of Hebrew Bible, The Theological School, Drew University
"Spong stands on solid scholarship. . . . More important than the negatives to the profoundly persuasive author is the unburnished positive: . . . The Fourth Gospel calls on the faithful to believe that Jesus achieved 'the mystical oneness with the God who is the source of life.'" — Publishers Weekly
"In his 24th book, The Fourth Gospel: Tales of a Jewish Mystic, the always provocative Bishop John Shelby Spong takes on the Gospel of John, opening new windows of insight and challenging the ways the fourth gospel has usually been understood." — Publishers Weekly
HarperOne, 9780062011305, 368pp.
Publication Date: June 11, 2013
About the Author
John Shelby Spong, the Episcopal Bishop of Newark before his retirement in 2000, has been a visiting lecturer at Harvard and at more than 500 other universities all over the world. His books, which have sold well over a million copies, include Biblical Literalism: A Gentile Heresy; The Fourth Gospel: Tales of a Jewish Mystic; Re-Claiming the Bible for a Non-Religious World; Eternal Life: A New Vision; Jesus for the Non-Religious, The Sins of Scripture, Resurrection: Myth or Reality?; Why Christianity Must Change or Die; and his autobiography, Here I Stand. He writes a weekly column on the web that reaches thousands of people all over the world. To join his online audience, go to www.JohnShelbySpong.com. He lives with his wife, Christine, in New Jersey.
or
Not Currently Available for Direct Purchase