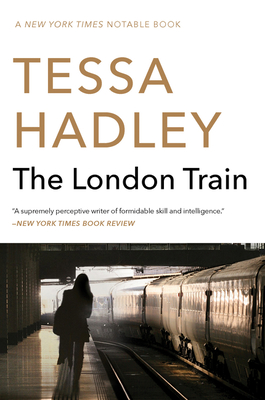 The London Train (Paperback)
Harper Perennial, 9780062011831, 352pp.
Publication Date: May 24, 2011
Other Editions of This Title:
Digital Audiobook (11/3/2011)
* Individual store prices may vary.
About the Author
Tessa Hadley is the author of six highly acclaimed novels, including Clever Girl and The Past, as well as three short-story collections, most recently Bad Dreams and Other Stories, which won the Edge Hill Short Story Prize. Her stories appear regularly in The New Yorker; in 2016 she was awarded the Windham Campbell Prize and the Hawthornden Prize. She lives in London.
Praise For The London Train…
"Powerful…. Ms. Hadley has a talent for the canny detail…. There are platoons of novelists producing work about middle-class marriages in disarray, most of it very dull. Ms. Hadley is one of the gifted exceptions, and the calm acuity with which she depicts these fractured relationships is haunting."
— Wall Street Journal

"Brings a quiet, nuanced intelligence to domestic fiction…. The London Train recasts these familial preoccupations in an intriguing, sophisticated structure…. Hadley, a meticulous stylist, has woven into her narrative reflections on memory and time."


— NPR

"[Hadley] is a writer who has always allowed her fiction space to breathe beyond its narrative borders. . . . Shows how language, deployed with precision or daring, can make thrillingly new the textures and undercurrents of everyday life."
— Peter Parker, Sunday Times (London)

"Hadley is a close observer of her characters' inner worlds. Her language can be fine-grained, subtle, eloquent…. Hadley is a supremely perceptive writer of formidable skill and intelligence, someone who goes well beyond surfaces."
— Jean Thompson, New York Times Book Review

"Impressive. . . . a triumph of form."
— Ti Sperlinger, Independent on Sunday (London)

"Hadley's strength lies in her characterization. . . . . There's something pleasingly human about them. With characters like these Hadley makes us wonder what forms our own darkness takes."
— Richard Platt, TimeOut (London)

"Spectacular….A compelling and serious page-turner."
— Anna Shapiro, The Observer (London) on Accidents in the Home

"Tessa Hadley is a writer whose antennae are almost indecently attuned to the interior static of private lives....[M]asterly..."
— Emma Hagestadt, The Independent

"Elizabeth Bowen-like in its attention to nuance in language and behaviour, this concise novel also offers a sharp portrait of modern Britain."
— Peter Parker, London Sunday Times

"The minds of Paul and Cora are so fully occupied by this most astute and sympathetic of writers....Hadley has crafted real excitement, so that each story ends in a flurry of curiosity and The London Train snaps shut with an effective twist."
— Susanna Rustin, The Guardian
In the course of the novel, both Cora and Paul lose their mothers. How does this affect each of them, individually, and in what ways are their reactions different? How do their losses affect the next steps Cora and Paul take, and the choices they make, in their lives?
At the time that Paul reconnects with Pia, father and daughter are somewhat estranged. In what ways does Pia's new living arrangement provide her with a substitute family? In the end, Pia returns home. What do you think Hadley is suggesting about modern family life, its cohesiveness or incohesiveness?
Why is Paul drawn to Marek? What is it about driving to make deliveries, and sleeping on the apartment couch, that attracts Paul?
The Guardian (UK) describes Paul and Cora's stories as "two mirroring halves"; mirrors are also alluded to frequently in the book. In what ways do Paul and Cora serve as reflections of one another, and in what ways do they contrast, or serve as foils to one another?
Early in the book, Willis, a neighboring farmer, threatens to cut back aspen trees on the border of Paul and Elise's property. How does Paul react to this threat? What does the conflict signify?
Paul and Cora's meeting—and its consequences—actually take place before the main action of the book. How would the impact on your reading have been different if the connection between Paul and Cora had been straightforward from the beginning of the novel, and revealed chronologically? Did you find the oblique way in which their connection was revealed frustrating? Did you find it successful? Why?
Paul and Cora are both, on some level, conscious of their own social class as being different from that of their spouses. Does this "class consciousness" affect both of them the same way?
Following her split with Paul, how much of Cora's anguish has to do with losing him? How much stems from her loss of the baby?
"Both Cora and Paul's lives are uprooted, physically and emotionally; both suffer loss, heartache and lust, and find temporary stability in an unexpected place" (Financial Times). For much of the book, Cora and Paul are between places, in transit, or in temporary living situations. What does this imply about their emotional lives? What is the significance of Paul and Cora's chance encounter taking place on the train? What role does transit play in the book, in general?